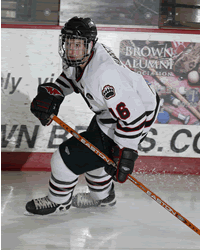 Haggett had 26 points in the first 19 games of 2003-04. He'll captain the Bears this year.


---
Key Statistics: Les Haggett led the Bears with 24 assists as a junior and also chipped in with five goals. His 29 points came in just 28 games. Had 13-20—33 in 35 games as a sophomore.
What He Does: Haggett is one of the team's better playmakers, as evidenced by his high assist total. He was an alternate captain last year as a junior and will wear the "C" in his senior season.
The Bigger Picture: Everyone knows that Brown's major issue heading into the season is finding a goaltender to replace Hobey Baker finalist Yann Danis. Haggett and the rest of the Bears offense can pick up the slack by scoring a few more goals. Haggett was one of several Brown forwards that slumped at the end of last season as the Bears fell to third place in the ECAC standings.
Brown coach Roger Grillo on Haggett: "We're hoping he takes another step forward this year. He has great leadership qualities and everyone respects him in the locker room. He'll be among the first to tell you that he struggled at the end of the year with his scoring and we're looking for a complete season out of him."
— Joe Gladziszewski