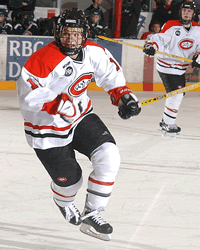 Iannazzo, described by his coach as a "rat terrier type," led the Huskies offensively last season.


---
Key Statistics: Led the Huskies offensively with 27 points (16 goals, 11 assists); led the team in power play goals (4) and shorthanded goals (3); Notched 15 points in one 13-game stretch last season; Named to All-Tournament team in the Dunkin' Donuts Coffee Pot.
What He Does: Without imposing size (he's listed at 5-8, but has bulked up to nearly 200) Iannazzo says he instead relies on his skates and his smarts to get into positions "where good things happen." Coming off a breakout junior season and a solid summer of training, Iannazzo will be called upon to lead a team that limped to the finish last year, losing their last seven games. On a roster filled with more question marks than exclamation points, fans in the Granite City are hopeful that Iannazzo's junior season success will be part of the bedrock their team can build on this time around.
The Bigger Picture: The Huskies scored just 113 goals last season – their worst offensive output since moving up to D-I in 1987. So despite the fact that Iannazzo doubled his sophomore season point total last year, his coach expects even more this time around. Iannazzo has spent the summer getting stronger and is prepared to spend his senior year making plays and taking abuse in front of the opponents' net – a place he calls "bloody nose alley."
St. Cloud State coach Craig Dahl on Iannazzo: "Dave's game is best served by the rat terrier type of play in front of the net, where he kind of bites onto your leg and starts shaking and won't let go. He's effective when he gets in there where the goals are scored."
— Jess Myers