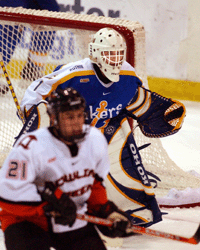 Jakaitis's .933 save percentage in 2003-04 is the 17th best single season mark in NCAA history in that category.


---
Key Statistics: Forget about his 5-10-4 overall record – Jakaitis was a CCHA All-Rookie honorable mention selection thanks to a sterling 2.13 goals against average and a .933 save percentage, which ranks 17th among single season save percentages in NCAA history. Not bad for a kid whose name wasn't even listed on the roster on the conference Web site.
What He Does: At 5-foot-10, Jakaitis is closer to Darren Pang than he is to Ryan Miller. He makes himself appear bigger than he really is, however, frustrating shooters in the process. Jakaitis is also adept at finding – and stopping – the puck in traffic, a huge asset for a netminder in a league such as the CCHA, where goalmouth scrums are the rule rather than the exception.
The Bigger Picture: With a 2.13 GAA, Jakaitis gives the Lakers a chance to win every night. Unfortunately, the team in front of him ranked dead last in the nation in scoring offense, averaging a meager two goals per game. His ability to make clutch saves on prime scoring opportunities is a must for the goal-starved Lakers and his teammates, secure in the fact that they've got a guy between the pipes that can erase their mistakes, can feel more comfortable taking risks in the offensive zone.
Bowling Green coach Scott Paluch on Jakaitis: "When your team is trying to become better offensively, you're going to give up chances in transition. Knowing you have a very good goalie lets your [skaters] know they can do what they have to do to create scoring chances."
— Mike Eidelbes