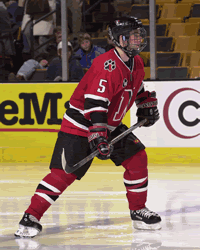 Judy helped Northeastern usher in a talented trio of freshman defensemen last year.


---
Key Statistics: Judy has never missed a game in three years at Northeastern. His offensive numbers aren't staggering – in fact, they've declined from 22 points as a freshman to 18, then 12 last year – but they don't accurately measure his contributions.
What He Does: It might be easier to chart what he doesn't do. Judy plays a role in every possible situation for the Huskies, and it's the little things that set him apart – from blocking shots to making clean outlet passes.
The Bigger Picture: How does a kid from Bowie, Maryland, with a fairly slight 5-foot-10 build become a top defenseman in Hockey East? "A lot of it is downright heart and desire," says head coach Bruce Crowder. He adds to that solid hockey sense and terrific leadership – something that was key a year ago on a team with three freshman defensemen. Crowder thinks Judy learned the value of taking players under his wing when he played with current pro Jim Fahey. It showed, especially down the stretch last year. Judy and rookie Steve Birnstill formed a formidable defense pair as the Huskies made a push to the playoffs.
Northeastern coach Brue Crowder on Judy: "Pound for pound nobody competes the way he does, and that makes him a real all-encompassing guy for us. For me I think his competitiveness sets him apart. He brings that every time he steps on the ice, and that speaks more than a 20-goal scorer."
— Nate Ewell