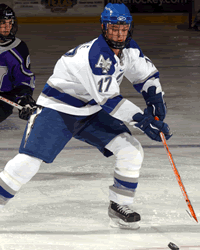 Knaeble, who came to Air Force straight out of high school, saw his production jump from four points as a freshman to 20 last year.


---
Key Statistics: With the graduations of seniors Shane Saum and Spanky Leonard, Knaeble will be the leading returning scorer for the Falcons after registering 20 points (8g, 12a) last year. He also notched three short-handed goals, good for a tie for seventh in the nation.
What He Does: Standing 6-feet-1 and weighing 195 pounds, Knaeble has the frame to be a menacing power forward in College Hockey America. He's valuable at both ends of the rink because of his ability to score and his willingness to defend. Air Force doesn't have a wealth of playmakers, so Knaeble has to wring out every drop of offensive flair he has in order to keep the Falcons competitive.
The Bigger Picture: As with a Slurpee, consistency will be the key for Knaeble. He came to the academy straight from high school, and his youth has been evident in up-and-down performances the last two years. At times, he'll be one of the most active players on the ice. Other times, he'll be just a step away from making the plays his coaches want to see. There's no question Knaeble has the talent to be Air Force's best player. The question is whether he will do it.
Air Force coach Frank Serratore says: "He's a big, strong right wing who, at our level, could be a Cam Neely-type player. He hasn't done it yet at the college level, but he has a tremendous upside and is a wonderful young man. This could be a breakthrough year for him."
— James Jahnke