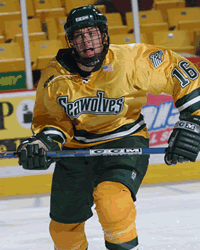 With the Seawolves' top three scorers gone, Kronschnabel is the team's top returning point producer (22 last year).


---
Key Statistics: Alaska Anchorage's top returning scorer after recording 9 goals and 13 assists as a freshman. At 6-4, Kronschnabel and Minnesota's Barry Tallackson are the two tallest returning forwards in the WCHA (Michigan Tech defenseman John Scott is 6-7). Kronschnabel's high school, Cretin-Derham Hall, produced 2000 Heisman Trophy winner Chris Weinke (Florida State) and Minnesota Twins catcher Joe Mauer.
What He Does: Kronschnabel and linemate Justin Bourne refer to themselves as "skrinders" – a term Bourne coined to designate a player who's not quite talented enough to be a skill guy and not quite tough enough to be a grinder. That pair benefited last season when most of the opponents' attention was focused on the Seawolves' top line of Curtis Glencross, Chris Fournier and Ales Parez. With Glencross and Fournier gone, Kronschnabel looks to go from cracking the roster of a one-win team as a recruited walk-on a year ago to being the center of attention as a sophomore.
The Bigger Picture: Seawolves coach John Hill knows where his team fits into the national recruiting picture. A college outside the continental U.S. is
rarely the first choice of the elite players, which is why Hill admits that he's fortunate to have Kronschnabel wearing the green and gold of UAA. "We saw some things in Charlie that other WCHA coaches might not have seen," Hill says. "If they had, I don't think he would've escaped the lower 48." With plenty of offensive holes to fill this season, Seawolf fans are sure to be thankful that coach Hill's keen recruiting eye brought Kronschnabel north to the future.
Alaska Anchorage coach John Hill on Kronschnabel: "Charlie is a big kid with soft hands, and he'll get an increased workload this season. He's certainly ready to build on some good things he did in his first year."
— Jess Myers