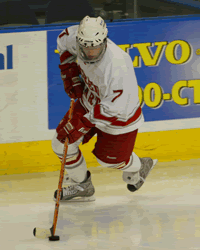 Larson has scored 44 goals in three seasons at Sacred Heart.


---
Key Statistics: Led Sacred Heart in points (29), goals (19) and power-play goals (8). A second-team all-league pick, only UConn's Tim Olsen had more goals (20) among Atlantic Hockey players.
What He Does: Armed with a terrific shot, Larson is described as a bit of a triple threat by head coach Shaun Hannah: he can score off the rush, off of the cycle, or on the power play. He's far from a one-dimensional player, but his ability to put the puck in the net stands out.
The Bigger Picture: As tempting as it might be to lean on Larson for goals, head coach Shaun Hannah insists that's not the way the Pioneers do things. "If we were counting on Garrett to score, what happens on a night when he's off, or if he gets hurt?," he says. "That's a key thing that we've fostered here – we need good balance." That said, Hannah knows the importance of getting Larson the puck. Two years ago Martin Paquet was his primary set-up man, and last year it was Mike Reagan. This year expect Rocco Molinaro, who had 14 assists a year ago, to be charged with setting up Larson – a welcome assignment, no doubt.
Sacred Heart coach Shaun Hannah on Larson: "He's got a great slapshot, and his one-time shot is very good, whether he's stationary or on the move. He's got a real good, quick release on his snap shot or wrist shot. He's one of those guys who has a lot of tools in the toolbox."
— Nate Ewell