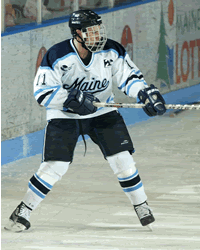 Léveillé had 40 points in 2003-04, good for 10th among Hockey East players.


---
Key Statistics: Ineligible as a freshman, he stepped into the Maine lineup last year and finished second on the team with 40 points (six goals, 34 assists). Earned Hockey East Rookie of the Year honors.
What He Does: In the mold of an Adam Oates, Léveillé is a pass-first, shoot-second centerman who makes players around him better. If anything, he can be too unselfish – he was eighth on the team in shots last year with 72, a figure that head coach Tim Whitehead would like to see increase.
The Bigger Picture: With the loss of goal scorers like Todd Jackson, Colin Shields and Dustin Penner, Léveillé's playmaking will be counted on to help others find the back of the net. While his patience and passing stand out, Léveillé's contributions don't stop there. He sprained his knee on the second shift of the national championship game last spring, keeping him from taking faceoffs the rest of the way. He could still play the wing, but the Black Bears felt his absence in the circle, which is a testament to his all-around game.
Maine coach Tim Whitehead on Léveillé: "He's got great hockey sense. He's a fluid skater who can make plays at high speed. He likes to have the puck on his stick in key situations – and we like him to have it, too, which works well."
— Nate Ewell