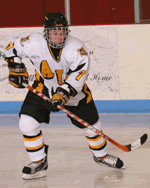 McConnell scored the game-winning goal in three of AIC's five wins last year.


---
Key Statistics: Twelve of his 20 points in 2003-04 were goals, and half of those came on the power play. He scored the game-winner in three of AIC's five victories on the year.
What He Does: The Time Out Lounge may be closed, and the Soo Gardens may be getting old, but kids from Sault Ste. Marie, Ontario – just across the Soo Locks from Lake Superior State – still know how to play offensive hockey. McConnell's no exception, with gifted on-ice intelligence and a skilled stick.
The Bigger Picture: American International scored just 2.09 goals per game last season, a figure that ranked behind everyone in Division I besides Princeton and Lake Superior State. With the departure of leading scorer Guillaume Caron, it's not going to get any easier for the Yellow Jackets to score goals. McConnell and fellow junior Andy Walbert will have to lead the way, and a 10-member freshman class needs to chip in offensively as well.
American International coach Gary Wright on McConnell: "He's been effective for us offensively, and we'd like that to continue. He's going to be a junior now, with two years of college hockey experience, and we'd like to see him step his game up. He has a lot of innate ability to tap into. He certainly has the capability, skill-wise, to be among the top players in our league with the right dedication."
— Nate Ewell