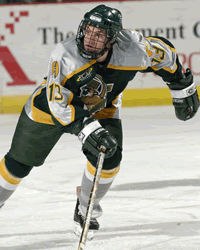 Mifsud scored 25 points last season, good for third among Vermont skaters.


---
Key Statistics: Has been among Vermont's top scorers in each of his first three seasons. As a sophomore, Mifsud led the team in assists with 19. Posted 12-13—25 last year to rank third on the team in scoring behind Brady Leisenring and Jeff Miles.
What He Does: Mifsud provides offense to the Catamounts, seeing time on the top two lines and in special teams situations. He's a leader
on the ice and works well with the team's younger players.
The Bigger Picture: Vermont's coaching staff honored Mifsud with a share of the team's captaincy this year. After evaluating player input and naming Jaime Sifers captain, the coaches named Mifsud as one of three players that will bear an 'A' on his sweater this season.

Vermont coach Kevin Sneddon on Mifsud: ""Scotty's always been a leader. Being a first-year coach last year I saw that right away and felt it was important to include him in this year's captaincy. Going into his senior year it's important for him to focus on the little things. Sometimes, players put pressure on themselves to perform statistically."
— Joe Gladziszewski