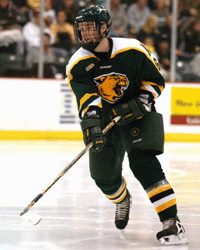 Milam scored nine goals for Northern Michigan last season. Five of those tallies came on the power play.


---
Key Statistics: Only five CCHA defensemen scored more points than
Milam did in 2003-04, when he contributed nine goals and 14 assists in 41 games. He ranked second among conference blueliners in goals, five of which came on the power play. In two seasons at Northern Michigan,
Milam has 47 points.
What He Does: Milam and classmate Nathan Oystrick, who scored 28
points last year, give the Wildcats two of the top offensive defensemen in
the CCHA. Milam fills the role of shooter on the power play and boasts a tremendous shot from the point. Older brother Troy, who helped Ferris State to its first league title in 2003, says his younger sibling is "the perfect hockey player, body and size-wise" at 6-0, 200 pounds. Jamie Milam is big enough to play a physical game but is more inclined to use his skating ability and puck-moving skills to his advantage.
The Bigger Picture: Since arriving in Marquette two seasons ago, Northern Michigan coach Walt Kyle has amassed a formidable collection of talent, and Milam and the rest of the Wildcats' juniors represent Kyle's first recruiting class. And while Jamie Milam is more skilled than his older brother, he's yet to display the leadership qualities and become the steadying influence that made Troy so valuable to Ferris State. Jamie may be primed to make that leap — he's worked incredibly hard this summer to not become too big, and he returned to Marquette earlier than the rest of his teammates to get a head start on preparation for the upcoming season.

Troy Milam on his brother: "Jamie is very skilled with the puck and has natural goal scoring ability. He's ready to accept more of a leadership role this year...and that doesn't happen unless you're prepared for those responsibilities."
— Mike Eidelbes