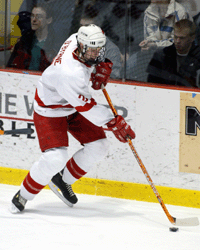 O'Byrne led Cornell with 30 penalties for 71 minutes as a freshman (Tim McKinney photo).


---
Key Statistics: O'Byrne played in 31 of Cornell's 32 games last year as a freshman. Led the team with 30 penalties for 71 minutes.
What He Does: He's got good size and strength and he's particularly nasty in the defensive zone. He had just two points all year long and they came in the same game as he recorded two assists in a playoff loss to Clarkson.
The Bigger Picture: O'Byrne is an aggressive defenseman and was among the league leaders in penalties. He adapted to Cornell's system as
the year progressed and was playing some of his best hockey down the stretch.

Cornell coach Mike Schafer on O'Byrne: "A lot of Ryan's issues last
year were good ones. He was overaggressive with his defensive play
and his physical play. That's a good problem to have as a coach."
— Joe Gladziszewski