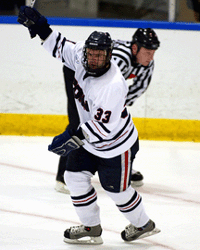 Olsen celebrated goals on 20 occasions last season, more than any other player in Atlantic Hockey.


---
Key Statistics: Olsen led Atlantic Hockey in goals (20, one better than Garrett Larson) and points (41, two better than Jeff Dams) last season. He gave no indication he was heading toward such heights during the first three months, but he rebounded for a blistering second half. In 20 post-Christmas games, Olsen registered 18 goals and 15 assists. He also was incredibly efficient, scoring on better than 18 percent of his shots throughout the year.
What He Does: Like a UConn literature major, Olsen loves reading. Hockey plays, that is. Not blessed with overwhelming size (5-8, 180), Olsen uses his knowledge and experience as much as anything to get himself into position to score. While in the defensive zone, Olsen keeps one eye on the player with the puck, waiting for him to make a mistake that he can take the other way.
The Bigger Picture: Olsen, who started at Division III Augsburg (Minn.) College before transferring to UConn after his freshman year, will serve as the Huskies' captain this season. UConn won't be quite as young as they were with 15 or so freshmen last year, but Olsen, 24, will still be needed to provide steady leadership as much as offense for the team. "I'm not really that much of a vocal guy — assistant captain Beau McLaughlin is more like that — but I'll try to lead by example. If I'm scoring goals, that's leading in some way."

Olsen on his red-hot second half of 2003-04: "I didn't really change anything I do. About halfway through, Coach put me on a line with Matt (Scherer) and (Chris) Uber and that was just the right combo. We complemented each other really well — it's hard to explain. I remember early in the year, I hit four, five, six crossbars. But then I started putting the puck in the net at Christmas and it snowballed into some more confidence and it just got bigger from there."
— James Jahnke