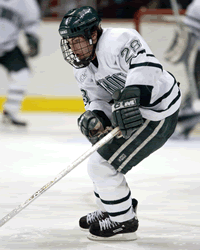 Head coach Bob Gaudet said Ouellette is a lot like Guy Carbonneau.


---
Key Statistics: Ouellette ranked third on the BIg Green in scoring in each of his first two seasons. As a freshman he had 35 points in 34 games, and recorded 16-9—25 as a sophomore.
What He Does: The premise of the A to Z profiles is to introduce you to players you might not know about, and Mike Ouellette is the answer to the question, "Who is the third member of Dartmouth's top line with Hugh Jessiman and Lee Stempniak?"
The Bigger Picture: Without Ouellette's all-around game, Stempniak and Jessiman wouldn't have had the productive years they've enjoyed in recent campaigns. His defensive work down low frees them up to take more offensive chances.
Dartmouth coach Bob Gaudet on Ouellette: "He's just a really complete player and he can do so many things. He can pass, score, he's a solid skater, he's good on face-offs, and he's one of our best defensive players. He doesn't ask much. He's a low-maintenance player."
— Joe Gladziszewski