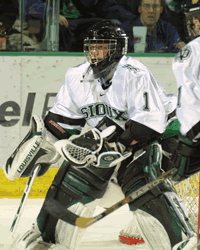 Parise's 2.05 GAA as a freshman was the second-lowest single season mark in North Dakota history (Scott Gaddini/UND Athletics photo).


---
Key Statistics: His 14 wins last season were the most by a North Dakota freshman since Karl Goehring won 23 in 1997-98. Overall, his 2.05 GAA was the second-lowest single-season mark in school history (Goehring set record of 1.89 in 1999-2000). Started his rookie season 8-0-0, the longest winning streak by a North Dakota goalie at the start of his career.
What He Does: Parise admits that just a few years ago, he had no discernable goaltending style. "I was just a scramble goalie, doing whatever I could to make a save," he says. But when Parise was 18, he met with Vancouver Canucks goalie consultant Ian Clark at a camp in Minnesota and learned the magic of the butterfly. The results thus far have included 14 collegiate wins, two shutouts and a WCHA title last season while Parise split the netminding duties with Jake Brandt.
The Bigger Picture: Parise says he's one of a trio of goalies (along with Brandt and highly-touted freshman Phillippe Lamoureux) who are all ready to play a starting role. A year ago, people were saying the offensively-gifted Sioux could win if they could find a goalie. This year, Parise's strong play late in his rookie campaign, coupled with the early departures of offensive stars Zach Parise and Brandon Bochenski, has some fans thinking that a sound defense may be North Dakota's best weapon in the fight to keep the MacNaughton Cup in Grand Forks for another summer.

North Dakota coach Dave Hakstol on Parise: "Jordan has a very competitive nature, and that's what makes him a good goaltender. Even with the success he had his first year, his whole summer has been dedicated to becoming a better goalie. It's something he works very hard at, and that competitive fire is what makes him successful."

— Jess Myers