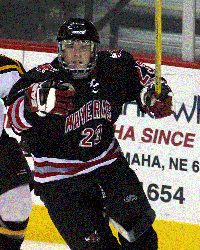 Only three freshmen in the nation scored more points last season than Parse, who had 16 goals and 19 assists.


---
Key Statistics: As a freshman, Parse led the Mavericks in goals (16) and points (35). He ranked tied for third in the CCHA with seven power-play goals – only Miami's Matt Christie (eight) scored more among NCAA freshmen. Parse and Christie tied for fourth place in rookie scoring.
What He Does: UNO coach Mike Kemp originally planned to bring Parse in for the start of the 2004-05 season, but academics sidelined two forwards from last year's recruiting class. The Mavs' staff brought Parse to Omaha the week before school started. To their pleasure, they got a natural scorer who, according to Kemp, has "a hunger to put the puck in the net…and an innate natural ability to find the hole [in the defense]." Parse's temperament also helped him make a quick transition to the college game – he exudes a quiet confidence and is unfazed by his abilities.
The Bigger Picture: As good as Parse was last season, he may have had an even better summer. Because he joined the UNO program so late, Parse basically had to play himself into shape. With an entire off-season to work on conditioning, the 6-1 forward should be even tougher to stop this season. Another asset – his confidence – also got a boost during the summer. Shortly after being drafted by Los Angeles in June's NHL Entry Draft, Parse attended the Kings' development camp and was impressive, scoring a pair of goals in an exhibition game on the camp's final day.

Nebraska-Omaha coach Mike Kemp on Parse: "If it's crunch time, a one-goal game…we're looking to him to score. It's tough to carry that weight as a freshman, but you look to that go-to guy in the heat of the battle. His style is quiet leadership. He leads by example."

— Mike Eidelbes