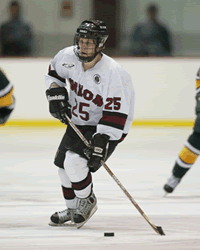 Poirier had five points as a freshman, but exploded for 27 in 2003-04.


---
Key Statistics: Poirier ranked second on the Union scoring charts last year (9-18—27), ahead of even more notable Dutchmen forwards Joel Beal and Scott Seney.
What He Does: Colgate's Jon Smyth wasn't the only sophomore forward in the ECACHL to have a breakout season after a largely anonymous rookie campaign. Union's Poirier played just 13 games as a freshman and even left school for a while. He came back to rank among the most outstanding offensive players on the team last year.
The Bigger Picture: Poirier scored his points in bunches last year for the lowest scoring team in the league. Changing that streakiness into consistency is a goal that the Union coaching staff has in mind for Poirier.
Union coach Nate Leaman on Poirier: "He was streaky at times but shows a lot of potential. Some games he was around the puck on every shift and there were other games when he wasn't getting the touches on the puck that he should have."
— Joe Gladziszewski