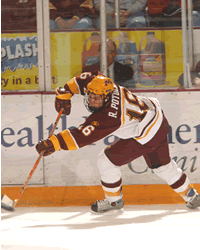 Despite playing in just 15 games, Ryan Potulny finished second among Gopher rookies in scoring with 14 points.


---
Key Statistics: Averaged nearly a point per game last season, despite missing two-thirds of his freshman campaign with a torn ligament in his left knee. Finished second among Gopher rookies in scoring with 6-8—14 despite playing in just 15 games.
What He Does: Despite a "blink and you missed it" rookie year, Potulny's his coach won't let a lack of experience stand in the way of playing time this season. Don Lucia says that he expects Potulny to play 25 minutes a game and quarterback the Gophers' top power play unit, meaning that Potulny needs to be in tip-top shape right away. "Ryan always has had natural talent, but he maybe lacked Grant's work ethic," says Lucia. "The injury forced him to work harder, which will really help his game this year."
The Bigger Picture: Your freshman year of college is widely renowned as a chance to start over with a clean slate. For Potulny, ditto for his sophomore year, which Lucia calls a "do over" for the sizeable forward. The Gophers' hopes for a three-peat took a tumble last November when Potulny was sidelined, and he provided an immediate boost after returning to the lineup in early March. Lucia now calls the injury a blessing in disguise, because the time off the ice allowed Potulny a chance to do some work in the weight room and get "stronger and leaner."

Minnesota coach Don Lucia on Potulny: "I expected Ryan to be an All-Rookie team candidate last year, so it was a big blow to lose him for much of the season. But in the games he played, I felt he was the best passer on our team, and I don't think we would've won the Final Five without him in the lineup late in the season."
— Jess Myers