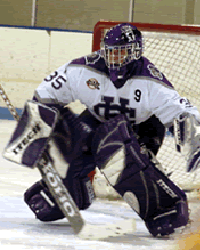 Quesada was named to the Atlantic Hockey all-tournament team after allowing one goal in three playoff games.


---
Key Statistics: As a sophomore, Quesada earned a triple crown of sorts among Atlantic Hockey goaltenders – he led the conference in goals against avereage (2.23 GAA), save percentage (.932 sv%) and wins (17).
What He Does: It's only fitting that a kid hailing from a town adjacent to the home of outdoor outfitter L.L. Bean has shown an innate ability to weather the storm. Among the country's leaders in GAA and save percentage, Quesada saved his best work for last, allowing just one goal in three Atlantic Hockey playoff games and leading the Crusaders to an automatic berth in the NCAA Tournament. He then played his guts out, literally, in Holy Cross's first-round match against top-seeded North Dakota – even though he emptied the contents of his stomach beside the net midway through the third period against the Sioux, Quesada stopped 30 of the 33 shots he faced in a 3-0 loss.
The Bigger Picture: As evidenced by his postseason play last year, Quesada serves as the backbone for the Crusaders. At 6-2, he's a big goalie and uses his size to challenge shooters by adeptly playing angles. Holy Cross coach Paul Pearl says Quesada seems to fill the net even when he's down in the butterfly, and his rebound control is excellent.
Holy Cross coach Paul Pearl on Quesada: "Tony not only has talent, but confidence. He's a steadying influence. Anytime you're a team that doesn't have a good goalie, there's a nervousness every time the puck crosses the blue line."
— Mike Eidelbes