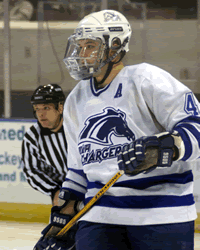 Schreiber's 18 points in 20 CHA games last season led all conference defensemen.


---
Key Statistics: Schreiber was one of a handful of defensemen in the nation to register double-digit goals last year, finishing with 10 markers and 11 assists. Six of his goals came as the quarterback of the Chargers' top power-play unit. Played in all 31 games and was whistled for just nine penalties.
What He Does: During his first two years in the Deep South, Schreiber started slowly before finally getting it going in the second half of the season. He said he has worked hard this summer to improve his early-season conditioning. On the ice, Schreiber has an enviable shot, especially when he gets a little bit of breathing room on the power play. He loves take one-timers, although he tends to hit a lot of pipes with them.
The Bigger Picture: After being a nearly unanimous all-league selection last year, Schreiber enters the new season as the most-celebrated blueliner in the CHA. And he doesn't shy away from such praise. "With Bryce Methven graduated from Bemidji, it's kind of up for grabs. We were both all-league last year, but he's gone and I'm the only one left. It's up to me to take it and be the best defenseman." A tougher task for Schreiber will be trying to push UAH past Bemidji State and Niagara to the top of the CHA standings this year.
Schreiber, on the toughest CHA player he's faced: "(Former Findlay and current Niagara forward) Kris Wiebe. That guy always finishes his checks. I kind of like to think of myself as a little bit of a softer player. I don't like getting hit, and I don't know why anyone would. But Wiebe is always in my face, getting under my skin. I know that improving my rough game could probably help me down the road. I'm working on that."
— James Jahnke