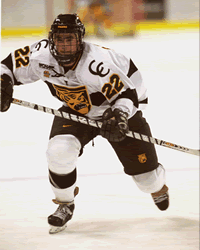 Sertich, a third-generation Tiger, scored a team-best 39 points as a sophomore (Casey Gibson photo).


---
Key Statistics: Named the Tigers' team MVP last season after leading the team offensively with 11-28—39. Has played in all 81 games for the Tigers since following in the footsteps of his father, Steve, and grandfather, Tony Frasca, who both played for CC. Frasca, a two-time All-American, was also the Tigers' coach from 1958-63.
What He Does: Anyone who has hiked in Colorado knows that the thin mountain air forces your lungs work harder. Maybe the altitude explains Sertich's seemingly boundless work ethic. After winning a WCHA title as a freshman and the team MVP award as a sophomore, Sertich never even considered taking a rest. He spent a good chunk of the summer back in Colorado Springs skating with teammates ("Working on my leg strength and on getting a better shot," he says) and making progress toward a history degree..
The Bigger Picture: During Sertich's productive rookie season, many noted that it would be hard not to put up good numbers while centering Peter Sejna and Noah Clarke. Then Sertich did it on his own last season, carrying the Tigers through some tough times on-ice and off-ice. After what he calls "a rollercoaster season" which saw the Tigers get swept by Denver one weekend, sweep the Pioneers in Denver the next weekend, then watch their arch-rivals win the NCAA title a few weeks later, Sertich is hoping his hard work means a more consistent, and successful, junior campaign.
Colorado College coach Scott Owens on Sertich: "We are hoping he picks up where he left off for us last year, offensively. Marty has the ability to make plays and score timely goals. We feel that this year, as a junior, he also can assume a larger leadership role."

— Jess Myers