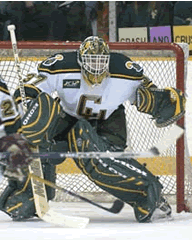 Traylen's strong play in the postseason helped Clarkson reach the ECACHL championship game in 2003-04.


---
Key Statistics: Started 36 of Clarkson's 41 games last year and was exceptional down the stretch. His season totals included a 2.57 goals-against average and a .918 save percentage with two shutouts.
What He Does: Traylen's one of the bigger goalies in the ECACHL and takes away a lot of the net. He relies on positioning more than quickness to make saves.
The Bigger Picture: His junior season mirrored Clarkson's overall campaign as the young team adjusted to a new coaching staff. Things started slowly for the Golden Knights but the team gradually improved and made it all the way to the ECACHL championship game in Albany.
Clarkson coach George Roll on Traylen: "He had a solid season all year. There were some tough games early on when the team didn't get a whole bunch of wins, but he was there for us and good goaltending always helps a team's confidence."
— Joe Gladziszewski