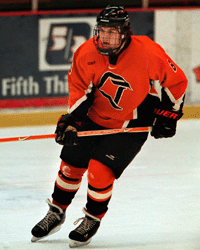 Unger scored three game-winning goals for Bowling Green as a freshman.


---
Key Statistics: Scored 13 points on six goals and seven assists in 37 games, and led the Falcons with three game-winning goals and his three power play goals tied for third on the team.
What He Does: Scoff at the notion that a freshman who barely reached double digits in points could be a team's most consistent offensive player, but Bowling Green coach Scott Paluch says Unger was just that last season. Statistics prove Paluch's point to a certain degree – only Kevin Bieksa recorded more shots on goal than Unger. What makes him so dangerous is his knack for creating chances by winning one-on-one battles, maintaining possession of the puck and getting scoring opportunities in tight quarters.
The Bigger Picture: Paluch paid Unger the ultimate compliment, calling him "an ugly hockey player" – he may not have the prettiest skating stride, but he consistently gets to loose pucks and makes things happen from there. In order for the young Falcons to climb higher in the CCHA, Unger needs to turn opportunities into goals either for himself or for his teammates and carry over the confidence he gained last season.
Bowling Green coach Scott Paluch on Unger: "He's tailor made for this conference. He's good in the danger area, in traffic and strong in front of the net. He'll battle, but he'll be creative in that battle…and he's fearless behind the net and along the wall."
— Mike Eidelbes