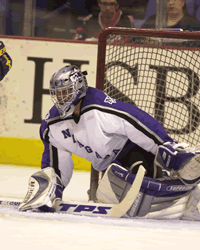 Van Nynatten was the MVP of the 2004 CHA Tournament.


---
Key Statistics: Van Nynatten far and away won more games than any College Hockey America goaltender last year, posting an 18-8-3 record. He was in the middle of the pack in terms of goals-against average (2.81) and save percentage (.904) overall, but that was partly because of the Purple Eagles' challenging nonconference schedule. In league play, Van Nynatten was second in GAA (2.36) and percentage (.912). Both numbers were significantly improved from his freshman year.
What He Does: Win games. Van Nynatten, who rarely gets shelled, usually is able to keep his team within striking distance, which gives Niagara's dangerous offense the opportunity to succeed. A big goalie (6-1, 200), he covers up plenty of the net, and he's one of the best puck-handling netminders in college hockey. Niagara coach Dave Burkholder said Van Nynatten "might start six out of 10 of our breakouts. And I assume that teams scouting us are trying to get good dump-ins and keep the puck away from him like they would with Marty Brodeur."
The Bigger Picture: Van Nynatten is the Purple Eagles' No. 1 tender, but he'll be pushed for playing time by sophomore Allen Barton and freshman Scott Mollison. Burkholder expects to play all three during a tough opening month that sees Niagara host UMass Lowell, then travel to Maine, Vermont, Clarkston and Western Michigan on consecutive weekends. Van Nynatten will have to be sharp to maintain his No. 1 role, because, as always, playing time will be based on performance. Also, in case you're wondering why Van Nynatten is two words now after universally being spelled as one word during his first two seasons: He finally spoke up to the school's sports information director about the mistake.
Burkholder on Van Nynatten: "He basically stole the net last year from a senior (Rob Bonk) and a very competent goalie in Allen Barton. And he started to get rid of some of his inconsistency. As a freshman, when he was on, he looked like an All-American. But when he was off, you couldn't even play him. Last year, he was on more often and would be on for weekends on end."
— James Jahnke