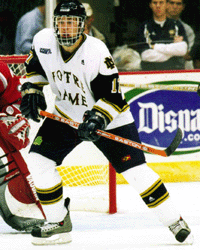 Walsh led Notre Dame with a +16 plus-minus rating in 2003-04.


---
Key Statistics: After a trying freshman season in which he broke his jaw and contracted mononucleosis, Walsh scored 12 goals and added 13 assists last year. He led the Fighting Irish in plus-minus rating (+16) and ranked second on the team with four game-winning goals and 46 penalty minutes.
What He Does: Walsh blossomed playing on a line with Rob Globke and Aaron Gill, a trio that became one of the CCHA's most imposing units because of their size and scoring prowess. At 6-foot-2 and 211 pounds, Walsh can play a physical style as evidenced by his penalty totals from a year ago. He also showed a knack for scoring big goals – among his game-winning goals were the lone tallies in wins against Boston College and Maine, and he scored Notre Dame's first goal in five of the team's 20 wins.
The Bigger Picture: The Fighting Irish lost six of their top seven scorers from last season's NCAA Tournament qualifiers, meaning Walsh instantly becomes the focal point of the team's offensive attack. And while Notre Dame boasts a stable of talented first- and second-year forwards, Walsh may be expected to carry the load up front until the youngsters settle in. He'll also serve as one of the Irish captains this year, which could be a daunting task on a team that has just four seniors and 15 freshmen and sophomores.
Notre Dame coach Dave Poulin on Walsh: "Mike is the vocal leader of this team and he's a player who backs it up with his play on the ice. He's a clutch player who scored some big goals for us last season. He's really become one of the top power forwards in the league."
— Mike Eidelbes