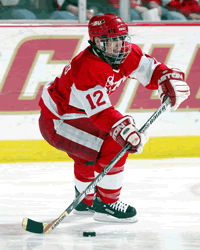 Zancanaro was joined in Hockey East last season by his twin brother, Tony, now a sophomore at Providence.


---
Key Statistics: Zancanaro had 14 points as a freshman and 17 as a sophomore, with five goals each year. He and senior Bryan Miller are the only Terriers to appear in every game each of the last two seasons.
What He Does: Zancanaro takes pride in playing a well-rounded game, and he can do a little bit of everything, from scoring to penalty killing. He's only 5-foot-5, and like some other shorter players – say Theo Fleury, or Tyson Nash – opponents can find that Zancanaro has a get-under-your-skin quality. "If you're hard to play against, the other team is always thinking about you and where you are," he says. "Some people don't react well to that."
The Bigger Picture: It'll be a season of new beginnings on Babcock Street, with Agganis Arena set to open Jan. 3 and the arrival of highly-touted Chris Bourque. That's good, because the Terriers can't wait to put last season behind them. Zancanaro was among a group of players who stayed on campus all summer with an eye toward a fresh start. He expects breakout seasons from a number of his teammates, singling out Brian McConnell, John Laliberte and David Van der Gulik as candidates to see a spike in production. Zancanaro is another strong possibility to see his offensive contribution grow.
According to Zancanaro: "Our team toughness was something we lacked last year. We need to go out and be physical. We need to be tough to play against."
— Nate Ewell