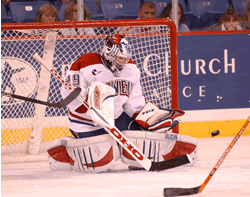 Peter Vetri
Freshman | Goaltender
Windham, N.H.

John Yaros
Junior | Goaltender
Bayside, N.Y.
Photos by Ken Babbitt
PETER VETRI &
JOHN YAROS
UMass Lowell
Vetri's Statistics: 39 saves, 1 GA in a 4-1 win
Yaros' Statistics: 32 saves, 1 GA in a 3-1 win
Their Impact: Our first-ever co-Players of the Week, Vetri and Yaros led the River Hawks in a stunning weekend sweep of top-ranked Boston College. Outshot 73-51 on the weekend, the River Hawks still posted 3-1 and 4-1 wins thanks to the efforts of their two talented netminders. Both goalies withstood early charges, stopping a total of 30 BC shots in the first periods of the two games, and held the Eagles scoreless on the power play.
Their Runners-Up: Chris Bourque (Boston University), Marty Guerin (Miami), Dave Iannazzo (St. Cloud State), David McKee (Cornell), Jeff Tambellini (Michigan)