April 9, 2005
NCAA Frozen Four Notebook
Denver's Second Wind
Our comprehensive championship game notebook begins with a look at Denver's captains
By Jess Myers, James Jahnke and Mike Eidelbes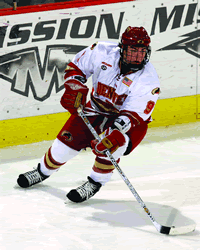 Gabe Gauthier leads the NCAA Tournament with nine points.
COLUMBUS, Ohio – As he sat half dressed in a locker room in Ohio, contemplating winning his second national championship in the final game of his college hockey career, Denver assistant captain Kevin Ulanski's thoughts went back to a lonely rink in Montana.
After a stellar hockey career at Madison (Wis.) West high school, Ulanski ended up playing for the Billings Bulls in the America West Hockey League. He says it was about as far from college hockey stardom as one can get.
"Billings isn't exactly the hotbed of junior hockey," Ulanski said. "It's amazing I even got here, coming from the AWHL. I'm not even sure that league is around anymore."
Ulanski, who had a pair of assists in the title game, shared the humble path to college hockey with fellow captains Matt Laatsch and Nick Larson, all of whom came to DU as walk-ons. On Saturday, that trio hoisted the game's top trophy once again, and reflected on how far they'd come.
"We knew our leadership had to be good this year, and hoped we'd get on a roll after Christmas," Laatsch said. "Instead it seemed like we got some momentum in October and it never really left us."
He reflected on an amazing run for the DU seniors, which started when they played limited roles on the team's 2002 run to the WCHA regular season and playoff titles when they were freshmen.
"Think about it – not only two regular season titles and two playoff titles, but two national titles in our four years," said Laatsch. "In hindsight, coming to DU was the best decision of my life."
According to Gabe Gauthier, the leadership supplied by the captains this season was as important as any of the goals or saves the team recorded en route to the NCAA repeat.
"These guys were truly special leaders for us, the way they came to the rink every day and were business-like," Gauthier said. "We faced a lot of challenges, but the leaders we had kept everyone composed and kept everything in perspective.
"That reflects who they are as people and as players who have worked hard and earned everything they've gotten. The hearts they have can get any bigger."
— Jess Myers
SMABY SO, SMABY NOT
Despite playing fairly well, North Dakota defenseman Matt Smaby had one of the worst games he could have imagined Saturday.
Smaby had the brutal luck of basically scoring twice on his own team – including Denver's championship-winning goal – and it all happened on national television on college hockey's biggest stage.
"I don't think words would do justice (to how I feel)," the sophomore said through watery eyes. "It feels terrible. It's hard."
Smaby's first own-goal technically wasn't one, officials determined more than an hour after the game. Less than seven minutes into the contest, rushing DU forward Kevin Ulanski slid a pass from the left of the Sioux crease toward the middle. The puck didn't hit its intended target, but it did hit the broad side of Smaby's skate and ricochet toward a mostly open net. It would have gone in on its own, but Denver forward Jeff Drummond tapped in the puck a millisecond before it crossed the line, giving him credit for the goal, the Pioneers a 1-0 lead and Smaby a slight reprieve from an own-goal. But it didn't change the fact that Smaby's skate played the lead role in the play.
After the Sioux tied it up at 1-1, Smaby's second own-goal swung the momentum of the game Denver's way for good. On a power play at the 10:08 mark of the second period, Ulanski ripped a shot from the point that pinballed in front of the net and went in hard off the crossbar behind helpless Sioux goalie Jordan Parise. The goal was awarded to DU forward Paul Stastny, who was battling Smaby in front of the net. Stastny said afterward that the puck hit his butt. Replays were inconclusive as to whether it then hit Smaby, but he admitted to INCH afterward that the puck went in off his knee.
"I saw a shot from the point and it was going wide," Parise said. "So I was looking over to the boards to see where the puck was going, and the next thing you know, I heard it go off the crossbar. I don't know where it hit Matt."
Because of those bounces, Smaby, a 6-foot-5, 220-pounder from Minneapolis with three points this year, is doomed to be remembered as the guy who basically scored twice as many goals against his own team in the national title game as he potted into the correct net all season. People will forget that he actually played pretty well against the tough Pioneer attack Thursday and that the only reason anybody is writing about him today is cruel fate.
"I feel bad for Matt because I thought he played an unbelievable game," Parise said. "Neither goal was his fault. The first goal, he was blocking a passing lane. The second goal, he was doing what he was supposed to do and blocking out. When you have a guy doing what he's supposed to do twice, and people looking at him because the goals were scored, I feel really bad for him."
Smaby tried to shake off the own-goals the rest of the game, but he was only partly successful.
"I just tried to keep playing because that kind of stuff happens in hockey," he said. "But it was the national championship, so it was kind of hard to forget. I was just in the wrong place at the wrong time."
— James Jahnke
SEEN AND HEARD AT THE SCHOTT
• One of college hockey's most colorful characters was almost denied entry to Value City Arena Saturday. Legendary Michigan State fan "Goofus" was detained at one of the rink's entrances for a few minutes as security personnel contemplated whether to let him bring in his one-man band instrument which features a cymbal, tambourine and cowbell. Goofus – who had purchased a ticket for his instrument – won over the security detail with a stirring rendition of "You Are My Sunshine," which drew a round of applause from the dozen or so bystanders who stopped to watch the exchange.
• Columbus did a solid job hosting this year's Frozen Four, but it'll always be a football town. Case in point: when Denver's Adrian Veideman and North Dakota's Matt Greene were sent off the ice for roughing minors 2:31 into the first period, the press box public address announcer explained the duo had been cited for "offsetting penalties."
• The weather in Columbus for the Frozen Four was phenomenal, and a number of fans wore shorts to Value City Arena for the championship game. We're not sure of the last time that happened at the championship game, but it certainly wasn't St. Paul three years ago.
• The Denver media faced two deadlines Saturday night. First, they had to file their stories. Then, they raced to the Port Columbus International Airport to get out of town and back to the Mile High City before a spring storm bears down on the city with up to a foot of snow. The Pioneers' team charter flight was set to leave Ohio around 1:30 Sunday morning.
• Denver captain Matt Laatsch said that prior to the start of the season, he considered pulling a Mike Eruzione-esque farewell to hockey if the Pioneers repeated as national champions.
"I told somebody if we win this thing again, I might just drop my skates at center ice and call it a career," said Laatsch, who said he'll try to pursue professional playing opportunities.
• Speaking of homage, injured DU sophomore forward J.D. Corbin ripped a page out of the Scotty Bowman scrapbook by donning his skates for the Pioneers' on-ice celebration.
"I wanted to be out on the ice with my skates on," said Corbin, who broke his collarbone in a freak accident during Wednesday's practice at Value City Arena. "I didn't want to put 'em on too early because I didn't want to bring any bad luck. When there was like a minute left, I figured we were pretty good so I came down [to the locker room] and put 'em on."
• The third-period dustup between Denver's Michael Handza and North Dakota's Mike Prpich was sparked when the latter grabbed the water bottle off the net behind Pioneer goalie Peter Mannino and helped himself to a drink.
"I thought he said something to Mannino…then I came a little closer and saw he was drinking out of his water bottle," Handza said. "I gave him a couple of slashes to the wrist and a punch to the head and told him not to do it again.
"If it wasn't the national championship game, he might have got tackled."
• One of the biggest hustle plays of the night came well after the final horn had sounded. DU senior forward Luke Fulghum was wrapping up a television interview at one end of the rink when he noticed his teammates gathering for the traditional post-title game photo with the national championship trophy. Fulghum nimbly sidestepped the tangle of TV cords that were strewn about the ice, but failed to notice the runner laid out for the post-game awards ceremony. He tripped on the carpet and crashed to the ice, but quickly got up no worse for wear.
"I didn't want to miss that picture," Fulghum said. "I piled on in there and took a little digger, but obviously I'm not feeling anything right now."
• Most creative sign of the weekend, courtesy of a Denver fan in one corner of the arena: Win or Lose, We Don't Live in Grand Forks. Late in the third period, the word "Lose" had been blocked out with white tape.
• Unlike 2004, when Gauthier watched the final seconds of the title game tick off from inside the FleetCenter penalty box (check out our feature, Denver's Time Travelers), he was with his teammates on the bench for the climactic moments this time. He said that he prefers the view from the players' side. "My heart wasn't pumping quite as much in that last minute this time," Gauthier said, recalling the frantic final seconds of his team's 1-0 win over Maine, as the Pioneers killed a 6-on-3 power play. "It's definitely better for my inner body to end the season on the bench instead of in the penalty box."
• Belated credit to a fan in a Minnesota State, Mankato, sweater, who we didn't see Thursday when we compiled our Sweaters in the Crowd cocktail napkin.
• Overheard as Denver's Gabe Gauthier waited to be interviewed after the game by ESPN's Erin Andrews: "C'mon. You're cutting into our beer time."
PLUSSES AND MINUSES

Ohio State's media relations staff, headed by the superb Leann Parker, was hospitable, accommodating and all around fantastic throughout the week. And the crew went above and beyond the call of duty several times, including unearthing an INCH computer cord that was accidentally left at the rink Friday night. Thanks, guys.

A big thank you to the staff at O'Shaughnessy's Public House, a watering hole near Nationwide Arena. They hosted a festive collection of Friends of College Hockey Friday night.

Sarah Carlson, the Hockey Humanitarian Award winner who did a beautiful rendition of the national anthem at the Hockey East semifinals, was ready and willing to sing tonight, but the NCAA opted to turn to the North Dakota band instead. The Sioux did a terrific job, but it was a missed opportunity to highlight a terrific award winner.

The center-ice video boards unfortunately didn't cut away from an ESPN piece on Geoff Paukovich's hit from behind on Robbie Bina that fractured Bina's vertebra in the last meeting between these teams. It was an important angle for the TV broadcast, but didn't need to be seen in the arena.

It wasn't the ice trouble that plagued the last Frozen Four in Ohio, but having to replace two panes of plexiglass in the first period was unfortunate.
WHAT'S NEXT
The Pioneers, who lose seven seniors from Saturday's lineup, will enter next season looking to become only the second team to win three consecutive titles (Michigan in 1951-53).