April 6, 2007
NCAA Frozen Four
North Dakota's Duncan Wins Hobey Baker Award
By Jess Myers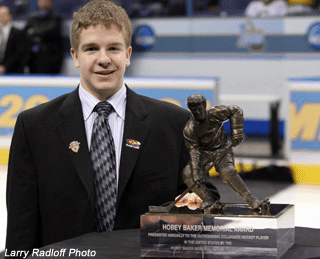 North Dakota forward Ryan Duncan is the second Fighting Sioux player to win the Hobey Baker Award.
ST. LOUIS – The first time Bob Duncan had his son Ryan on skates, the three-year-old hit his head on the ice and wanted off the rink in the worst way. The elder Duncan ignored his boy's pleas and admits dragging Ryan around the rink for 30 minutes to give him a feel for hockey.
On Friday, Bob's efforts to get his son to like the game were proven overwhelmingly successful. At a podium set up on the red line of the Scottrade Center, Duncan was handed the Hobey Baker Award as the nation's best collegiate hockey player.
The sophomore from Calgary led North Dakota's run to the Frozen Four this season, earning WCHA player of the year honors with 31 goals and 26 assists.
Yale's Savard Wins Humanitarian Award
Yale forward Kristin Savard is the winner of the 2007 Hockey Humanitarian Award.
A senior forward from Framingham, Mass., Savard founded "Teaming Up", Yale's effort to raise awareness for improving maternal health in the developing world. Yale raised money to enable the women of the Keiskamma community in South Africa to partake in the UbuMama program. UbuMama ("motherhood") is an arts-based initiative in which women produce a maternity gown depicting the challenges of motherhood. The garments are used as instruments to gain support for the cause.
Savard also helped organize efforts to raise funds by other teams at Yale, including the women's swimming and diving team and the women's lacrosse team.
"It doesn't take the time commitment that people really think it takes. Because we have the publicity and because we have the alumni network we really have an opportunity to do great things. By putting in a little bit of effort it really goes a long way."
Savard is the 12th recipient of the award, which was created to recognize college hockey players — male or female — who give back to their communities in the true humanitarian spirit.
"He's got a natural goal-scorer's patience," said Fighting Sioux coach Dave Hakstol. "There are times when he gets it and snaps it right away and there are other times when there's just a split-second delay where he'll find a hole."
Ryan followed his father's footsteps to North Dakota. Bob played 88 games for the Sioux between 1968-71, winning three letters. But other than practicing with his son in the family's basement, Bob claims no credit for the boy's on-ice abilities.
"He practices it a lot," Bob said, with a grin. "I guess that's where it's from, because I certainly didn't have a shot like that."
Duncan, along with fellow sophomores T.J. Oshie and Jonathan Toews, formed the most-feared offensive line in the nation this year. The trio combined for 155 points and led North Dakota on an amazing run in the season's second half that culminated with a third consecutive trip to the Frozen Four. But according to Hakstol, Duncan's work early in the season when his eventual linemates were injured and the team was below .500 was as important in winning the award as anything Duncan did in February and March.
"Those three played together as a combination only six or seven games the first half of the year," Hakstol said. "Some of that was due to line-juggling and some of it was due to injuries, but Ryan was very consistent in his production throughout the year."
Still, Duncan admits to be fortunate to play with Toews and Oshie, and was quick to credit them, and his team, for his success.
"They made me a lot better as well," Duncan said. "We fed off each other. It was a real pleasure to play with those guys. They're first-round draft picks for a reason. They're going to make a lot of money someday. They make the game a lot easier to play."
In becoming just the third sophomore to win the award, Duncan finished ahead of Air Force forward Eric Ehn and Notre Dame goaltender David Brown, both of whom were on the ice for the announcement. The crowd of a few thousand was in a playful mood beforehand, with Air Force fans chanting "Let's Go Eric!" and a sizeable contingent from North Dakota countering by chanting Duncan's name.
North Dakota's storied program has won seven NCAA titles, but Duncan is just the second Sioux player to win the Hobey, following forward Tony Hrkac in 1987.
"It's about the program and it's about the success of the team," said Hakstol. "Obviously the seven national championships are very important, but it's been 20 years since Tony Hrkac won the Hobey Baker. The individual honor of Ryan being put into that category is very, very special."
Earlier Friday, Notre Dame senior goaltender David Brown was the first-ever recipient of the Lowe's Senior CLASS Award for men's hockey. The award, selected by a nationwide vote of coaches, media and fans, is presented to college hockey's outstanding NCAA Division I senior student-athlete. Sportscaster Dick Enberg first conceived the idea of an award for seniors in 2001 in response to the growing trend of men's basketball players leaving school early for the NBA.