June 22, 2012
By Mike Eidelbes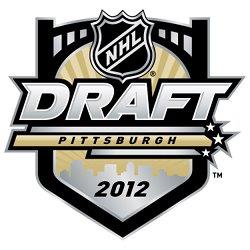 So here we are—the 2012 National Hockey League Entry Draft. It's taking place at the Consol Energy Center in Pittsburgh this year, site of the 2013 NCAA Frozen Four.
That's where I am not.
For the second straight year, I'm covering the first round of the draft from the comfort of my home. It's good and bad. I'd like to be there for sure, but I don't think they'd let me cover the proceedings in a t-shirt and shorts. Also, I just had spicy Italian sausages and baked beans for supper, so it's probably better for me to be sequestered at this point in time.
OK, time to make dreams come true, except for Wild fans, who'll likely be disappointed yet again. Here we go …
7:06: Just flipped on the TV. Hooray, more Pierre McGuire.
7:07: TSN anchor James Duthie throws to Alyonka Larionov, who's covering the draft from the social media lounge. The twenty-something daughter of former Red Wing Igor Larionov is wearing a clingy red dress. "That's not appropriate," my wife says from kitchen.
7:14: Edmonton general manager Steve Tambellini steps to the podium to announce the first pick in the draft on behalf of the Oilers. It's Sarnia Sting forward Nail Yakupov.
7:16: The teenage son of Oilers' owner Darryl Katz is on stage for the obligatory post-pick photo. He looks like a young Spaulding Smails.
7:20: Nail Yakupov makes me think of Russian comedian Yakov Smirnoff. I so want Yakupov to say, "In Soviet Russia, every 18-year-old gets selected in the draft."
7:23: Columbus is ready to make its pick. General manager Scott Howson sends a special hello to the fans watching the draft at Nationwide Arena, most likely in a supply closet. The Blue Jackets take Ryan Murray, a defenseman from the Everett Silvertips. Also, his suit pants are very shiny.
7:26: TSN reports Murray's billet in Everett was a 71-year-old man. I really want to make a joke here, but that's a nice story.
7:29: The Montreal Canadiens have the third pick in the first round. General manager Marc Bergevin says something in French, then turns the podium over to Trevor Timmons. The Habs take Sarnia forward Alex Galchenyuk, a forward from Sarnia. He's handed a Canadiens sweater by someone in Habs colors who is a good foot shorter than commissioner Gary Bettman. Must be Gionta.
7:34: My 7-year-old daughter is driving me up a tree. Jumping around, singing, throwing stuffed animals, asking me questions. We're only three picks in. This isn't going to end well.
7:37: The early story in this year's draft is hairstyles of family members. Galchenyuk's dad, Alex Sr., has a 'do that makes him look like Count Floyd from SCTV. A teenage-looking blonde in the Galchenyuk party is rocking the Christie Brinkley "Vacation" flow. Then there's Ryan Murray's mom, who stole her style from Joyce DeWitt of "Three's Company."
7:42: The Islanders are up at fourth overall. They take Griffin Reinhart from the Edmonton Oil Kings.
7:44: What happened to the hand-operated draft board? It's been replaced by a modern-day, electronic thingy. I mean, it's about time, but it's just not the same.
7:46: Toronto general manager Brian Burke makes his way to the podium. The Leafs take Morgan Rielly, a defenseman from the Moose Jaw Warriors. Don Cherry is pleased.
7:49: Morgan Rielly played for the legendary Notre Dame Hounds, based in Wilcox, Sask. Any day you can squeeze Moose Jaw and Notre Dame Hounds references in back-to-back posts is a good one.
7:52: TSN's James Duthie interviews Reilly and Burke. Reilly's a good interview, but looks like he knows that if he says something out of line, Burke will choke him out.
7:57: Anaheim is up, and the Ducks take Swedish forward Hampus Lindholm. McGuire reports that Lindholm has never had a drink of alcohol. Keep him away from Patrick Kane.
8:03: Lots of great options for the Minnesota Wilds here at no. 7. But they'll find a way to screw it up. The pick is defenseman Matt Dumba from the Red Deer Rebels. My guess is they trade him to the Kings for Dustin Penner by December.
8:08: Now that's a trade: the Penguins acquire the no. 8 overall pick, center Brandon Sutter, and ex-Boston College defenseman Brian Dumoulin from Carolina for center Jordan Staal. TSN speculates the move clears the cap room that would allow the Pens to make a run at former North Dakota standout Zach Parise, who's a free agent in a matter of days. Parise and Sidney Crosby were teammates at both played Shattuck St. Mary's in Faribault, Minn. Parise was at Shattuck from 2000-02, while Crosby played there in 2002-03.
8:12: General manager Ray Shero gets a rousing welcome as he steps to the podium to announce the Pens' selection. It's defenseman Derrick Pouliot from the Portland Winterhawks.
8:18: Six of the first eight picks in this year's draft have been defensemen. Michigan recruit Jacob Trouba, who played for the U.S. National Development Program last season, should come off the board soon.
8:22: Right about the time the Jordan Staal trade was made public, the Kings announced they'd signed Jarret Stoll to a contract extension. Jordan Staal … Jarret Stoll. It's the NHL Draft's Oprah-Uma moment.
8:26: The Winnipeg Jets have the no. 9 overall pick and they take Trouba. Don't like that the commentators keep mentioning that Trouba is "scheduled" to go to Michigan next season.
8:29: Trouba tells TSN's James Duthie, "Being at Michigan is a great place. I'm getting a great education and that's important to my family." I really want to see this guy in college hockey.
8:31: Full disclosure: I almost missed the Trouba pick because I was checking to see if "Adventure Time" was on Cartoon Network. It's not, but "Regular Show" is. Awesome.
8:36: While is was watching Regular Show, Tampa Bay used the 10th overall pick on Peterborough Petes defenseman Slater Koekkoek. Apparently his last name is pronounced "koo-koo", which could be terrific or terrible depending on his development.
8:40: Washington has the no. 11 pick. TSN shows Caps general manager George McPhee, the 1982 Hobey Baker Award winner at Bowling Green, deep in discussion with members of his staff.
8:44: It is just me, or is Connecticut joining Hockey East sort of a head scratcher? I mean, I understand UConn fits the league's geographic footprint and brings name recognition among casual sports fans, but that program has a long way to go before it's Hockey East-ready and they're playing league games a half-hour off campus for the foreseeable future. One could argue Penn State will be more competitive right out of the chute in the Big Ten.
8:46: The Caps take Filip Forsberg, a right wing who played for Leksand in Sweden. Greeted with a chorus of boos as he stepped to the podium, McPhee says, "Thanks, Pittsburgh. We're touched."
8:49: Buffalo has the 12th overall pick in the draft. The Sabes take Mikhail Grigorenko, who scored 85 points for the Quebec Remparts. At one point, he was considered a top-five lock but there have been whispers regarding his desire. Haven't the Sabres had their fill of mercurial Russian forwards?
8:53: Dallas is poised to make its pick. The TSN crew thinks Zemgus Girgensons, a Latvian-born USHL forward—he played for Dubuque last season—who is slated to attend Vermont, might be the guy.
8:54: It's not Girgensons, but Kitchener forward Radek Faksa, a Czech. But Girgensons is an interesting story. Lot of talent evaluators think Girgensons can immediately make the jump to the American Hockey League and perhaps the NHL. For Catamounts fans, here's hoping Girgensons spends at least one year in Burlington; after last season, UVM supporters could use some good news.
9:00: We Americans had to change channels to continue watching the draft—NBC Sports Network is cutting out for some Olympic trial stuff. It's never easy being a hockey fan in this country.
9:03: We have another trade. Calgary trades the no. 14 pick to Buffalo for the no. 21 and no. 42 picks. The Sabres, picking for the second time in the last three selections, grabs Girgensons. I've heard nothing but raves about this guy, namely that he's an unbelievable competitor and a great leader.
9:12: Ottawa has the 15th pick and the Sens take a local kid, defenseman Cody Ceci of the Ottawa 67s. Ceci's mom is so excited she nearly falls into the row of seats in front of her.
9:15: TSN's Bob McKenzie reports Ceci's dad was a wide receiver in college for the Guelph Gryphons. This gives me the opportunity to remind everyone that my British Columbia Lions, the defending Grey Cup champions, open the CFL regular season next week against the Winnipeg Blue Bombers. Geroy Simon!
9:18: Washington uses its second first-round pick (16th overall) to take forward Thomas Wilson from the OHL's Plymouth Whalers. He's huuuge. The Caps sorely lack size.
9:25: It's San Jose's turn at no. 17, and the pick is Tomas Hertl, a Czech with arms so long he looks like he could tie his shoes without bending over. Hertl's coach in the Czech Republic was former NHLer Rosie Ruzicka. Just wanted an excuse to drop Rosie Ruzicka into the conversation.
9:29: Those Italian sausages are kicking in. These guys need to pick up the pace.
9:31: The dynamic Stan Bowman takes to the podium, then gives way to Blackhawk forward Brandon Saad, a former U.S. NTDPer and a Pittsburgh native. announces the pick. It's Finnish forward Teuvo Teravainen, who played for Jokerit last season. Jokerit has one of the great sweaters in college hockey.
9:34: It's a beautiful night here at INCH World Headquarters and I feel guilty for sitting inside when I could be out doing something. Guess I could've moved the TV out to the deck. My neighbors put their TV outside a couple weeks ago to watch the Tigers-Yankees game. I felt bad because I was mowing my lawn and they probably couldn't hear, but c'mon … who watches TV outdoors?
9:37: With the 19th overall pick, Tampa Bay takes Russian goalie Andrei Vasilevski. He played for Ufa in Russia last season. When I saw his name and team a few weeks ago, I asked myself, "How can a draft-eligible guy be a UFA?"
9:40: The Flyers have the 20th pick; general manager Paul Holmgren is mercilessly booed. Holmgren should've told Pens fans to save their boos for Marc-Andre Fleury. Anyway, the Flyers take Oshawa center Scott Laughton.
9:44: Next year's NHL Draft is in Newark. Philadelphia is the site for the 2014 NHL Draft. In case you're planning a getaway or something. I've never been to Philly or New Jersey, but I can assure you both have electricity and running water.
9:48: Ten picks to go in the first round, and Calgary is up at no. 21. The Flames take Mark Jankowski, a forward from Stanstead College in Quebec who's scheduled to head to Providence next season. Great bloodlines—his dad played at Cornell and his great uncle, Red Kelly, won eight Stanley Cups with Montreal and Toronto. The Friars are upgrading their talent level under Nate Leaman.
9:53: Jankowski is toolsy.
9:55: Pittsburgh has the 22nd selection, and they use it to take London defenseman Olli Maatta, a Finn. Yup. He's from Finland. So there's that …
10:00: If you want to see productivity at its peak, catch day two of the NHL Draft. Team reps announce picks from their tables rather than heading up to the podium and everyone is motivated to get back home, so they rip through six rounds in about three or four hours. Roger Goodell would be appalled.
10:03: Pick no. 23 beings to the Florida Panthers; they take defenseman Mike Matheson, who played for Dubuque in the USHL last season. He's off to Boston College in the fall. A TSN graphic compares his style to former BU defenseman Ryan Whitney. People in the Heights are going to be chapped.
10:07: As the first round winds down, don't be surprised if two prospects with college ties hear their names—Minnesota-bound defenseman Brady Skjei and Michigan forward Phil Di Giuseppe. Meanwhile at no. 24, Boston chooses Belleville goalie Malcolm Subban, the brother of Montreal defenseman P.K. Subban.
10:11: Kudos to Malcolm Subban for wearing a vest under his suit. Swag.
10:18: A little off the board, but St. Louis selects Green Bay defenseman Jordan Schmaltz with the 25th overall pick. Schmaltz is heading to North Dakota in the fall. Blues are building a nice little base of ex-collegians—Backes, Oshie, Elliott, Schwartz, Andy McDonald.
10:22: Time for my Canucks to pick at no. 26. They take Belleville center Brendan Gaunce. TSN analyst Craig Button says Gaunce is "industrious." What does that mean? Can he build elaborate structures out of rudimentary tools?
10:29: Phoenix has the 27th pick, but I'm looking ahead to the Rangers at no. 28. Might we see Phil Di Guiseppe go to the Blueshirts?
10:33: The Coyotes use the no. 27 pick to select forward Henrik Samuelsson, who played for Edmonton in the WHL. Cam Neely's kid should run onstage and shank him in the knee Gillooly-style.
10:39: I missed. Instead of taking Di Giuseppe, the Rangers take U.S. NTDP defenseman Brady Skjei, who'll head to Minnesota in the fall. His last name, in case you were wondering, is pronounced "shay."
10:45: New Jersey has the second-to-the-last pick in the first round and they take U.S. NTDP forward Stefan Matteau. He was headed to North Dakota but is off to the QMJHL where his dad, ex-NHLer Stephane, is an assistant coach.
10:51: The first round ends with the Stanley Cup champion Los Angeles Kings—yeah, that really hasn't sunk in yet—taking Barrie forward Tanner Pearson. I've never been to Barrie, but I've decided I don't like it because "Barrie" seems like a terrible way to spell the name of that city.
No active college players go in the first round. That hasn't happened since 1997. Among the first-round picks that year—Joe Thornton, Patrick Marleau, and Marian Hossa. The Bruins kicked off round two by taking Minnesota's Ben Clymer and Carolina followed by choosing North Dakota's Brad Defauw.