The Dean's List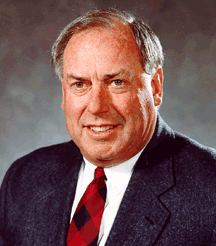 Jeff Sauer – the fifth-winningest coach in college history – writes a bi-weekly column for Inside College Hockey.com. "The Dean" was the head coach for 31 years at Colorado College and Wisconsin, where he won two national titles. Sauer retired at the end of the 2001-02 season.
Previous Editions of The Dean's List
On early departures for the pros
On this year's rule changes
On rinks, old and new
For your listening pleasure, find The Bud Song on Wisconsin's official site.
thedean@insidecollegehockey.com
Part of the fun in doing this column is the opportunity to interact with you, the hockey fan. Please send your questions or comments to thedean@insidecollegehockey.com.
This Week's Question
As an incoming athlete, what commitment should I expect to make on the college level?
– Kelly B., Milwaukee, Wis.
Over the yeas my response to that question has been that education is the most important starting point. Academics do not take a back seat. In recruiting, I always told players they should be concerned about education and they should take care of their job in the classroom before coming to the rink on a day-to-day basis.
Between off-ice conditioning, practice, studies and traveling to games, the demands on athletes today are time-consuming. I always told my incoming freshmen that the first thing they have to learn is time management.

November 15, 2002
The Dean's List by Jeff Sauer
I am fortunate to have been selected to be an assistant coach for the United States team in the world junior hockey championships in Halifax, Nova Scotia, at Christmas time. Because of that position, I was asked to observe and evaluate some candidates for the team who are playing Major A junior hockey in Toronto last weekend.
It got my mind wandering back 30 years ago when I was Bob Johnson's assistant coach at Wisconsin and Major A players were still alive in recruiting for the colleges. I remember flying to Winnipeg and watching the Flin Flon Bombers with Bobby Clarke and Reggie Leach and hoping we could get them to become a Badger. Then the next weekend traveling to Montreal to watch the Ottawa 67s with Denis Potvin, and then going to a rink to watch Lanny McDonald play.
I bring this up only because in watching my first Major junior game in a long time last weekend, I noticed a great difference. First of all, the players on those teams may be eligible to play in the world junior tournament, but not in college hockey.
Secondly, I look back at the players I scouted and I saw players who were unbelievably talented. I look at today's players and I can't say the same thing. Now I know with expansion in the National Hockey League and the increased number of teams, some of those major junior kids will make it to the NHL.
But I saw a lot of kids who never will make it too, and I saw a number of kids who would benefit from playing college hockey, if they could get the chance. I started thinking that under NCAA rules, it is sad that a number of these players never get the opportunity to play in college. Quite honestly for many of these young men, the chances of playing in the NHL are slim. Yet they don't get the opportunity to play in college and get a degree should their NHL dream pan out.
Why do many of these kids play Major junior hockey instead of staying eligible for college?
Basically, because the Major junior level does a good job of promoting and advertising their product. Many kids in Canada don't hear about the college option. We can't promote our game under NCAA rules. We are handcuffed by the rules. So it's tough to get the word out by sending out a brochure to a young kid or to keep a finger on younger kids to tell them how to stay eligible for the college game.
Now Dany Heatley was an exception. As a talented player from Calgary, Alberta, he had Major junior teams after him. Because his dad played college hockey at Wisconsin, he was aware of what college hockey was about and he elected to become a Badger where he became an All-American. I saw him play for the Atlanta Thrashers last week in Chicago and the way he greeted old teammates and friends, I think he's happy about his decision. But there are not a lot of guys like Heater.
So how does this system change? How do we convince more players to go to college instead of Major junior?
The college game has to work through league commissioners to try and get legislation to the NCAA so that college coaches can spread information about the game to younger players. I really think this would be better for all of hockey.
It would expand the talent pool so that the college game could get more players. It would benefit a number of kids in Canada and the U.S. who could still grow in the game, but also would have a college degree 30 years from now if they don't turn out to be a Hall of Famer like Bobby Clarke or Denis Potvin.