The Dean's List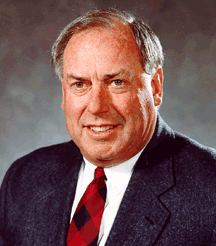 Jeff Sauer – the sixth-winningest coach in college history – writes a bi-weekly column for Inside College Hockey.com. "The Dean" was the head coach for 31 years at Colorado College and Wisconsin, where he won two national titles. Sauer retired at the end of the 2001-02 season. He was the 2003 Snooks Kelley Award winner for contributions to U.S. hockey and ranked 16th on INCH's list of the all-time greatest college hockey coaches.
For your listening pleasure, find The Bud Song on Wisconsin's official site.
thedean@insidecollegehockey.com
Part of the fun in doing this column is the opportunity to interact with you, the hockey fan. Please send your questions or comments to thedean@insidecollegehockey.com.
September 17, 2003
The Dean's List by Jeff Sauer
The stunning death of Herb Brooks over the summer was staggering to all of us who knew him. I grew up near Herb on the East Side of St. Paul, Minn., coached against him when he was at the University of Minnesota, worked with him at USA Hockey, and got to know him as a good friend. In fact, I was with Herb at a U.S. Hockey Hall of Fame event the night before he died, so as you can imagine, it was a real shock to me when we lost one of the giants of the game.
Herb's death made me reflect on some of the great characters and great coaches I was fortunate to come in contact with during my career.
As I look back on the 31 years I coached, I put coaches into certain categories. Guys like Snooks Kelley at BC and Ned Harkness were old school. They are the pioneers, the ones who got the college game started.
Then there is the next tiers of coaches who came along and promoted the game. These are guys like John Mariucci, who still known as the grandfather of hockey in Minnesota for what he did with the Gophers, Al Renfrew at Michigan, John MacInnes who had the great teams at Michigan Tech, Leon Abbott at Rensselaer, Amo Bessone at Michigan State and Murray Armstrong at Denver.
I think there are still some people in Regina, Sask., who are mad at Murray for "stealing their players" and bringing them to Denver to put together his great teams in the late '60s and '70s.
And then there is the next level of guys – I like to think of them as younger guys, or guys who are more my age. People like Bob Johnson, Herbie, Jerry York, Ron Mason, Tim Taylor, Jack Parker and Red Berenson. They were innovative, willing to try new things as the college games evolved.
Another in this group was Charlie Holt, the former New Hampshire coach. I loved seeing Charlie on the other bench. There was always something new when you played his teams. He was always making adjustments and trying new things. But then after the series was over, or at a coaches meeting later on, he was also always open to sitting down with you and explaining his philosophy of what he was trying to accomplish in the type of style he was playing, or the tactics he was employing.
The best prepared coaches I ever went up against were Herb Brooks and Bob Johnson; the most competitive was Gino Gasparini when he had those great championship teams at North Dakota. It was interesting every time you went to the rink against Gino.
I see the young guys coaching now and they don't seem to have as much fun. The college game has gotten like football, with video and breaking down tape and watching DVDs to pick up different things.
Certainly the days of coaching against Amo Bessone and John Mariucci are over. Then you'd try to like crazy beat one another on the ice, but after the game Amo would have you over to his house for spaghetti. Mariucci was the same way. You'd be competing like crazy during the game and have a beer and talk about it later.
Probably my very favorite coach to go up against was my friend Mike Sertich. He had some great teams in Duluth, but I think when we both retired, we ended up with just as many wins against each other. That's the way it should be. He was one of the coaches who wasn't afraid to try different things. He'd adjust during a game and force you to do the same. He also wasn't afraid to talk to me before the national anthem or during the game and certainly after the game. It was always memorable when you coached against Serty.
The one common thread about all these coaches is that they are proud of the way the game has grown and developed. After Herb's success with college players on the 1980 Olympic team, I think we have seen the college game grow and be recognized for the great game that it is. All coaches share a bond in helping with that growth. We all feel we are in it together for the betterment of the game and to watch the development of players as students and athletes.
It is certainly a stressful job, but it is also a gratifying job.