The Dean's List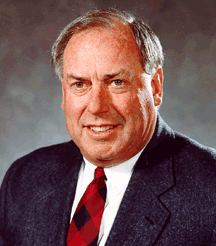 Jeff Sauer – the sixth-winningest coach in college history – writes a bi-weekly column for Inside College Hockey.com. "The Dean" was the head coach for 31 years at Colorado College and Wisconsin, where he won two national titles. Sauer retired at the end of the 2001-02 season. He was the 2003 Snooks Kelley Award winner for contributions to U.S. hockey and ranked 16th on INCH's list of the all-time greatest college hockey coaches.
For your listening pleasure, find The Bud Song on Wisconsin's official site.
thedean@insidecollegehockey.com
Part of the fun in doing this column is the opportunity to interact with you, the hockey fan. Please send your questions or comments to thedean@insidecollegehockey.com.
December 2, 2003
The Dean's List by Jeff Sauer
With the holiday season upon us, the college hockey season is a quarter over for most teams. It's been a season full of excitement and surprises. And it's terrific to watch the game grow.

There is an issue out there in the that could affect the continued growth of the sport in the near future. Proposal 2-69 is a proposal to be voted on by the full NCAA Division III membership at its annual convention in Nashville Jan. 12. The proposal is one element of a broad reform package proposed for Division III: a provision that would prevent any Division III schools from awarding athletic scholarships, even in sports in which they participate at the Division I level.

What does Division III politics have to do with Division I college hockey, you say? It would have a large impact at four tradition-rich schools – Colorado College, Rensselaer, Clarkson and St. Lawrence, programs which have combined to make 57 appearances in the NCAA Tournament. At least one of the four participated in each of the first 17 Frozen Fours.

Currently, Division III schools that "play up" in Division I in certain sports, such as those four in hockey, are allowed to grant athletic scholarships in those sports. Four other schools across the country would be affected by the proposal, including Johns Hopkins, a power in lacrosse.

As a former player and coach at Colorado College this issue really hits home with me. I know of the rich heritage CC has in hockey and how the first 10 Frozen Fours were held in Colorado Springs at the legendary Broadmoor World Arena long before the national championship was called a Frozen Four.
As a former athletic director at CC, I recognize the philosophy behind the legislation, too. I understand the thought process. But I think there can be some middle ground.

I know things have changed since I was at Colorado College. I played baseball and hockey and that went against the thinking that if an athlete received a scholarship in one sport (hockey), he shouldn't be able to participate in a sport that doesn't offer aid. But times have changed. Things have evolved.

If the non-hockey playing schools look at this issue, they can see that in reality all schools offer aid. While CC, Clarkson, RPI and St. Lawrence offer athletic scholarships, many D-III schools award grant-in-aid packages or have scholarships that are endowed by alums or benefactors. There is nothing wrong with this. They are in keeping with the academic and athletic philosophies set down by college presidents and administrators.

Colorado College can afford to offer athletic scholarships. Other schools can't, but should CC be punished for this? With rising tuition costs, I can see the day that many schools won't be able to afford to fund athletic scholarships and would have to go to grant-in-aid programs, but that's an issue for another column. For now, CC and the others have chosen to keep alive hockey programs that are important to the fabric of their schools.

One of the things people love about college hockey is the ability for the little guy to compete against the big boys. Last year, Peter Sejna from Colorado College won the Hobey Baker Award as the game's top player. In the mid-1980's, Rensselaer won the national championship. Joe Marsh had St. Lawrence in the 2000 Frozen Four. Clarkson made nine NCAA Tournament appearances in the 1990's.

Hockey schools have been busy educating non-hockey playing Division III members why it should overturn the recommendation of the NCAA Management Council and President's Council. Hopefully, member schools will look at the big picture and understand that the hockey tradition at places like Colorado College, Rensselaer, St. Lawrence and Clarkson meshes with the outstanding academic tradition of the schools and defeat this legislation.


This week's Ask The Dean...

What do you think about the idea of the WCHA expanding its current 28-game league schedule to 30 or 32 games? As the schedule stands now, each team in the league does not get to see the full complement of WCHA teams in their building each year. The addition of two more league series each year would help the situation immensely. Have you heard anything on this issue and, if so, what are the chances of it happening?

Longtime Sioux fan Dan Sherlock

I agree with you. I would love to see a WCHA schedule where each team played an equal number of games against each team. I think the players would like that. I know coaches would like it and fans would like it. I am on a WCHA committee studying scheduling and trying to make things equitable from the standpoint of travel and competitive balance.

But unless the NCAA allows teams to play more games in a season, it is nearly impossible to change the current setup. Teams have tournaments in their buildings and want to play non-conference games so unless the NCAA changes its current position – and there is no indication that will happen – I can't see an expansion in the number of WCHA league games in the near future.