The Dean's List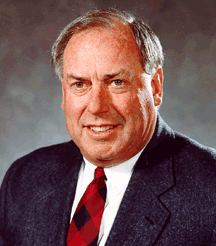 Jeff Sauer – the sixth-winningest coach in college history – writes a bi-weekly column for Inside College Hockey.com. "The Dean" was the head coach for 31 years at Colorado College and Wisconsin, where he won two national titles. Sauer retired at the end of the 2001-02 season. He was the 2003 Snooks Kelley Award winner for contributions to U.S. hockey and ranked 16th on INCH's list of the all-time greatest college hockey coaches.
For your listening pleasure, find The Bud Song on Wisconsin's official site.
thedean@insidecollegehockey.com
Part of the fun in doing this column is the opportunity to interact with you, the hockey fan. Please send your questions or comments to thedean@insidecollegehockey.com.
March 1, 2005
The Dean's List by Jeff Sauer
Tournament hockey is the best. Big crowds and the excitement of teams gathering in one venue to play for a trophy provide some of college hockey's best moments.
I was fortunate to get a jump on the tournament season by attending the Beanpot Tournament in Boston for the first time. I was impressed at the passion and the crowd at the Fleet Center – it is as much a spectacle as a hockey tournament. Certainly the Beanpot is THE hockey event in Boston in February, maybe even moreso in this year of the National Hockey League lockout.
Boston University's exciting overtime victory over Northeastern whet my appetite for the tournament hockey which will come in the next few weeks. With the end of the season in sight, it looks like it will be a wide open and exciting NCAA Tournament with no clear-cut favorite.
Certainly, Denver, Boston College, Cornell and Colorado College have made claims to being among the elite teams. There are more teams than ever who are in the next tier of clubs that legitimately think they can win in March and April. And then you have the surprise teams of this regular season like Nebraska-Omaha, Northern Michigan and Harvard who would like to think they can continue their regular season success in the postseason.
I have been fortunate to see most of the top 10 teams and many of the best players this season and I also think the Hobey Baker race is as wide open as the tournament. Certainly Colorado College has two of the best players in the country in forwards Marty Sertich and Brett Sterling. Michigan Tech's Colin Murphy has had an impressive season and there are two goalies – David McKee who keeps posting shutouts for Cornell and Jordan Sigalet at Bowling Green – who I have not seen, but have heard great things about from coaches and scouts. All those players should get consideration.
Like many of you college hockey fans, I'm sad to see the NHL finally gone for this season. In all the analysis I have read about the lockout and what the game needs to do to improve, I have been most impressed at John Davidson's comments. He is a friend of college hockey as well as an astute observer of the game and a former NHL player.
In his remarks Davidson said there are four things that have to happen when the game returns: 1) Fewer games; 2) More talent and energy given out by players on a nightly basis; 3) Fans should be able to walk away feeling good about the effort and game that they've just seen; and 4) being affordable for fans to watch.
College hockey fans are familiar with those four tenets. Even though the lockout is certainly not good for anyone, it may provide the NHL with a chance to be a better game in terms of excitement and enthusiasm on a nightly basis, which is what fans get from college hockey on a nightly basis.
I think the lockout has us all wondering what will happen to the draft, which is traditionally held in June with many college players and recruits selected. With no collective bargaining agreement in place, no one knows if and when the next draft will be held. No one can tell with certainty the draft order, and that is more important than ever with a talent like Sidney Crosby available as the first pick.
Finally, I want to salute Coach Jack Parker and the folks at Boston University on their state-of-the-art Agannis Arena. As part of my Beanpot visit, I got to see the Terriers' new home. Jackie certainly did his homework and picked up ideas from all the great new college hockey rinks that have been built in the last few years. He put them together in a gem of a building and great place to watch hockey.
Enjoy tournament time.