October 13, 2010
Recruiting Trail: Top 20 Defensemen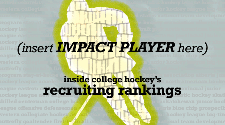 Previous Top Defensemen
2009: Nick Leddy, Minnesota
2008: Aaron Ness, Minnesota
2007: Ryan McDonagh, Wisconsin
2006: Erik Johnson, Minnesota
2005: Jack Johnson, Michigan
2004: Alex Goligoski, Minnesota
2003: Ryan Suter, Wisconsin
North Dakota figures prominently in these rankings every year, but the Fighting Sioux have never had a player top our list of incoming defensemen. Until now, that is.
U.S. National Team Development Program alum Derek Forbort becomes the seventh WCHA defenseman in eight seasons to assume the No. 1 position in our evaluation of rookie blueliners. For what it's worth, five of the previous top-rated rearguards are currently in the NHL — Ryan Suter (Nashville), Alex Goligoski (Pittsburgh), Jack Johnson (Los Angeles), Erik Johnson (St. Louis), and Nick Leddy (Chicago).
Inside College Hockey compiled its 2010 Recruiting Rankings with input from college coaches and professional scouts. Participants were asked to evaluate recruits based on their projected impact at the college level, not on their professional hockey prospects.
Also: Top 20 Forwards | Top 10 Goalies | Top 15 Classes
TOP 20 INCOMING DEFENSEMEN

Name

School
Last Team

Derek Forbort

North Dakota
U.S. NTDP

The 15th overall pick in June's NHL Draft scored five goals and added 23 assists for the U.S. NTDP last season.

Adam Clendening

Boston University
U.S. NTDP

Led U.S. team to World Under-18 title last spring, tying for team lead in scoring with 10 points.

Justin Faulk

Minnesota Duluth
U.S. NTDP

Scored 21 goals for the U.S. NTDPers last season, 14 of them on the power play.

David Makowski

Denver
Green Bay (USHL)

USHL Defenseman of the Year had 18 goals and 23 assists in helping Green Bay to regular-season and playoff titles.

Stephen Johns

Notre Dame
U.S. NTDP

At 6-foot-4 and 221 pounds, will provide a physical presence for an Irish team overhauling its blue line.

Jon Merrill

Michigan
U.S. NTDP

Puck-moving blueliner had 25 assists for the NTDP last season.

Nick Jensen

St. Cloud State
Green Bay (USHL)

In two seasons with Green Bay, scored 13 goals and 50 assists; a 2010 USHL All-Star.

Kevin Gravel

St. Cloud State
Sioux City (USHL)

A 2010 USHL All-Star, Gravel's dad, Jim, played for the Huskies from 1977-81 and scored 101 career points.

Dillon Simpson

North Dakota
Spruce Grove (AJHL)

Alberta Junior Hockey League Rookie of the Year scored 12-29—41 for league regular-season and playoff champions.

Mac Bennett

Michigan
Cedar Rapids (USHL)

Named to the USHL All-Rookie Team after putting up nine goals and 15 assists in 53 games for Cedar Rapids.

Patrick Koudys

Rensselaer
Burlington (CCHL)

Wes McLeod

Alaska Anchorage
Prince George (BCHL)

Mark Alt

Minnesota
Cretin Derham Hall (Minn.) H.S.

Eamonn McDermott

Colorado College
Fargo (USHL)

Brice O'Connor

Maine
New Hampshire (EJHL)

Brendan Ellis

Merrimack
Westside (BCHL)

Justin Baker

St. Lawrence
Streetsville (CCHL)

Jordan Heywood

Merrimack
Victoria (BCHL)

Jamie Oleksiak

Northeastern
Chicago (BCHL)
20.

Michael Young

Nebraska-Omaha
Flin Flon (SJHL)