October 13, 2010
Recruiting Trail: Top 20 Forwards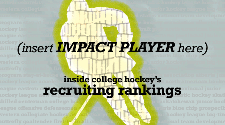 Previous Top Forwards
2009: Louis Leblanc, Harvard
2008: Jordan Schroeder, Minnesota
2007: Kyle Turris, Wisconsin
2006: Kyle Okposo, Minnesota
2005: Phil Kessel, Minnesota
2004: Travis Zajac, North Dakota
2003: Brady Murray, North Dakota
Last year marked the first time in seven seasons that the No. 1 spot on Inside College Hockey's list of forwards did not belong to a WCHA freshman. It turned out to be a brief hiatus for the WCHA, however, as this year's top rookie forward is Colorado College's Jaden Schwartz, the United States Hockey League's Forward of the Year, the league's leading scorer, and a first-round pick of the St. Louis Blues in this summer's NHL Entry Draft.
Of the top 20 forwards in our rankings, 11 are WCHA rookies, five are from Hockey East, three are from the CCHA, and one is from ECAC Hockey. USHL alums hold five of the 20 spots in this year's rankings; five also hail from the U.S. National Team Development Program.
Inside College Hockey compiled its 2010 Recruiting Rankings with input from college coaches and professional scouts. Participants were asked to evaluate recruits based on their projected impact at the college level, not on their professional hockey prospects.
Also: Top 20 Defensemen | Top 10 Goalies | Top 15 Classes
Name

School
Last Team

Jaden Schwartz

Colorado College
Tri-City (USHL)

2010 USHL Forward of the Year was the youngest player to lead the circuit in scoring in nearly 30 years.

Beau Bennett

Denver
Penticton (BCHL)

California native scored 41 goals and 120 points in 56 games for Penticton.

Matt Nieto

Boston University
U.S. NTDP

Member of the U.S. team that won consecutive gold medals at the 2009 and 2010 World Under-18 Championships.

Jason Zucker

Denver
U.S. NTDP

The first Nevada native to be selected in the NHL Draft, Zucker scored 24 goals and 43 points for the U.S. NTDP.

Charlie Coyle

Boston University
South Shore (EJHL)

2010 Eastern Junior Hockey League Rookie of the Year is a cousin of former Terrier Tony Amonte.

Anders Lee

Notre Dame
Green Bay (USHL)

Big forward who scored 66 points last season was Minnesota's Gatorade high school football player of the year in '08.

Erik Haula

Minnesota
Omaha (USHL)

Speaking of football, Haula's dad, Tomi, coached the Turku Trojans, an American football team in Finland.

Mark Zengerle

Wisconsin
Salmon Arm (BCHL)

In 114 games with the Silverbacks, the Rochester, N.Y., native racked up 64 goals and 149 assists.

Matt White

Nebraska-Omaha
Omaha (USHL)

USHL Player of the Year and USA Hockey Junior Player of the Year scored 35 goals and 82 points for Omaha.

Nick Bjugstad

Minnesota
Blaine (Minn.) H.S.

6-foot-4 forward was Minnesota's Mr. Hockey in 2010 after scoring 29 goals and 60 points in 25 games for Blaine.

Connor Brickley

Vermont
Des Moines (USHL)

Joe Basaraba

Minnesota Duluth
Shattuck St. Mary's (Minn.) School
Bill Arnold
Boston College
U.S. NTDP

Nick Shore

Denver
U.S. NTDP

Brock Nelson

North Dakota
Warroad (Minn.) H.S.

Luke Moffatt

Michigan
U.S. NTDP

Mike Voran

Notre Dame
Sioux Falls (USHL)

Kevin Hayes

Boston College
Noble and Greenough (Mass.) Prep

Mitch MacMillan

St. Cloud State
Alberni Valley (BCHL)

Greg Carey

St. Lawrence
Burlington (CCHL)