October 18, 2011
Recruiting Trail: Top 20 Defensemen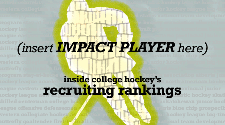 Previous Top Defensemen
2010: Derek Forbort, North Dakota
2009: Nick Leddy, Minnesota
2008: Aaron Ness, Minnesota
2007: Ryan McDonagh, Wisconsin
2006: Erik Johnson, Minnesota
2005: Jack Johnson, Michigan
2004: Alex Goligoski, Minnesota
2003: Ryan Suter, Wisconsin
The top spot in this category has been dominated by the WCHA—more specifically, Minnesota and Wisconsin—since we started this feature in 2003. But the top rookie defenseman this time around is U.S. National Team Development Program alum Robbie Russo, who hails from Notre Dame of the CCHA.
For what it's worth, six of the previous top-rated rearguards are currently in the National Hockey League—Ryan Suter (Nashville), Alex Goligoski (Dallas), Jack Johnson (Los Angeles), Erik Johnson (Colorado), Ryan McDonagh (New York Rangers), and Nick Leddy (Chicago).
Inside College Hockey compiled its 2011 Recruiting Rankings with input from college coaches and professional scouts. Participants were asked to evaluate recruits based on their projected impact at the college level, not on their professional hockey prospects.
Also: Top 20 Forwards | Top 10 Goalies | Top 15 Classes
TOP 20 INCOMING DEFENSEMEN

Name

School
Last Team

Robbie Russo

Notre Dame
U.S. NTDP

In 60 games with the U.S. NTDP last season, scored four goals and added 26 assists.

Joey Laleggia

Denver
Penticton (BCHL)

Led BCHL defenseman in scoring in both 2009-10 and 2010-11; 2011 BCHL Interior Conference MVP.

Joakim Ryan

Cornell
Dubuque (USHL)

Scored 32 points in 53 games for Dubuque last season; mother was a professional tennis player.

Garrett Haar

Western Michigan
Fargo (USHL)

Seventh-round pick of the Washington Capitals impressed brass at the team's summer development camp.

Ben Marshall

Minnesota
Omaha (USHL)

2011 All-USHL rookie team pick and all-league second-team honoree in his lone season in the circuit.

Nick Mattson

North Dakota
Indiana (USHL)

2011 USHL Defenseman of the Year picked up 36 points in 57 games and had a league best plus-minus rating of +33.

Scott Mayfield

Denver
Youngstown (USHL)

Another 2011 All-USHL selection; New York Islanders took him in the second round of the 2011 NHL Entry Draft.

Alexx Privitera

Boston University
Muskegon (USHL)

New Jersey native scored 10 goals and 34 points in Muskegon last season.

Trevor van Riemsdyk

New Hampshire
New Hampshire (EJHL)

2011 EJHL Defensive Player of the Year scored 16 goals and 22 assists in 39 regular-season games.

Tom Fallen

Yale
Cedar Rapids (USHL)

Helped Cedar Rapids to a franchise-best 42 wins and USHL Anderson Cup for best regular-season record in 2011-12.

Andrew Prochno

St. Cloud State
Sioux Falls (USHL)

Brennan Serville

Michigan
Stouffville (OJHL)
Michael Paliotta
Vermont
U.S. NTDP

Pat McNally

Harvard
Milton (Mass.) Academy

Peter Stoykewych

Colorado College
Des Moines (USHL)

Tim Daly

St. Cloud State
Langley (BCHL)

Max Everson

Harvard
Edina (Minn.) H.S.

Aaron Harstad

Colorado College
Green Bay (USHL)

Nick Luukko

Vermont
Dubuque (USHL)

Ben Gallacher

Ohio State
Camrose (AJHL)