October 18, 2011
Recruiting Trail: Top 20 Forwards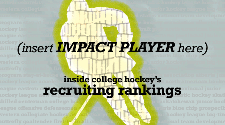 Previous Top Forwards
2010: Jaden Schwartz, Colorado College
2009: Louis Leblanc, Harvard
2008: Jordan Schroeder, Minnesota
2007: Kyle Turris, Wisconsin
2006: Kyle Okposo, Minnesota
2005: Phil Kessel, Minnesota
2004: Travis Zajac, North Dakota
2003: Brady Murray, North Dakota
For just the second time in nine seasons, the No. 1 spot on Inside College Hockey's list of forwards does not belong to a WCHA freshman. That honor goes to Boston College's John Gaudreau, the 2011 United States Hockey League Rookie of the Year who originally committed to Northeastern before flipping to the Eagles in August. He's the first Hockey East forward to earn the top position.
Of the top 20 forwards in our rankings, seven are from the CCHA, six are from ECAC Hockey, five are from WCHA, and two are from Hockey East. USHL alums hold seven of the 20 spots in this year's rankings.
Inside College Hockey compiled its 2011 Recruiting Rankings with input from college coaches and professional scouts. Participants were asked to evaluate recruits based on their projected impact at the college level, not on their professional hockey prospects.
Also: Top 20 Defensemen | Top 10 Goalies | Top 15 Classes
Name

School
Last Team

John Gaudreau

Boston College
Dubuque (USHL)

2011 USHL Rookie of the Year scored 36 goals and 72 points in 60 regular-season games for Dubuque.

Tyler Biggs

Miami
U.S. NTDP

Father, Don, played 16 pro seasons mostly in the AHL and IHL and had brief stints with Minnesota and Philadelphia

Jimmy Mullin

Miami
Fargo (USHL)

2011 All-USHL first team selection scored 293 points during his four-year prep career at Shattuck St. Mary's.

Zach Hyman

Michigan
Hamilton (OJHL)

2011 Canadian Junior Hockey League Player of the Year finished second in the OJHL with 102 points in 43 games.

Rocco Grimaldi

North Dakota
U.S. NTDP

Member of U.S. teams that won gold medals at the IIHF World Under-18 Championship in 2010 and 2011.

Phil Di Giuseppe

Michigan
Villanova (OJHL)

Scored 30-49—79 in 59 games last season; possible first-round pick in the 2012 NHL Entry Draft

Brian Ferlin

Cornell
Indiana (USHL)

Power forward, a Jacksonville, Fla., native, scored 73 points in 55 games for the USHL's Indiana Ice.

Jacob Laliberte

Rensselaer
Cornwall (CCJHL)

Central Canada Junior A Hockey League MVP and league's top scorer tallied 133 points in 62 regular-season games.

Kyle Rau

Minnesota
Eden Prairie (Minn.) H.S.

Minnesota's Mr. Hockey in 2011, given to state's top prep player; brother, Chad, played for Colorado College.

Blake Coleman

Miami
Indiana (USHL)

2011 USHL Player of the Year scored 92 points, the best offensive output by a USHL player in more than a decade.

Mark MacMillan

North Dakota
Penticton (BCHL)

Evan Rodrigues

Boston University
Georgetown (OJHL)
Will Kessel
Western Michigan
Green Bay (USHL)

Nick Weberg

Yale
Faribault (Minn.) Shattuck St. Mary's

Austin Czarnik

Miami
Green Bay (USHL)

Blake Pietila

Michigan Tech
U.S. NTDP

Matt Peca

Quinnipiac
Pembroke (CCJHL)

Phillip Hudon

Cornell
Choate Rosemary Hall (Conn.)

Caleb Herbert

Minnesota Duluth
Sioux City (USHL)

Petr Placek

Harvard
Hotchkiss (Conn.) School