July 13, 2005; UPDATED: August 24, 2005
INCH Flight Risks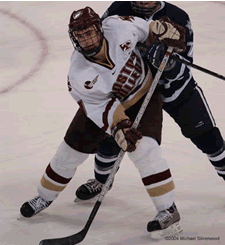 Patrick Eaves signed with the Senators on Aug. 22. (Photo by Michael Silverwood)
Last year, the threat of an NHL lockout led to a flurry of college defections, as players signed before salary cap rules took effect.
This year, the ratification of a new collective bargaining agreement should lead to another round of departures from the college game.
It seems, in a sense, like college hockey can't win either way. But the guys signing the contracts can win, to the tune of as much as $850,000 per year.
That may not be as much as the previous rookie cap, but it beats meal money. And with each rookie contract set at four years, some players may want to end one four-year journey – college – in order to start the next one. At the end of that first contract could be each player's first chance for a really big payday.
With that in mind, here are some candidates Inside College Hockey has identified as potential Flight Risks:
Player, School (NHL Rights)
The Skinny & INCH's Prediction
David Backes, Minnesota State, Mankato (St. Louis Blues)
He's a proven scorer (77 points in 77 career games with the Mavericks) and, at 6-3, 210 pounds, he's got the size to bang with just about anyone. Backes has been on the right wing almost exclusively at Mankato, but he can also play center, a position at which the Blues desperately lack depth. With a number of aging, high-priced forwards on the payroll, expect St. Louis to make a serious run at getting Backes signed for a year of grooming with their AHL affiliate in Peoria.
INCH Prediction: The Blues need forwards who can score, especially at the AHL level. Backes, who has shown he's one of the WCHA's most talented forwards, fits that mold. They'll get him signed.
Matt Carle, Denver (San Jose Sharks)
Adding a defenseman wouldn't seem to be high on the Sharks' to-do list, what with Scott Hannan, Kyle McLaren and top prospect Christian Ehrhoff under contract and re-signing stalwart Brad Stuart a likely priority. But Carle, who showcased his talents at April's Frozen Four – including an unforgettable dance through a posse of North Dakota skaters to set up a Paul Stastny goal – has offensive gifts Sharks fans haven't seen since Sandis Ozolinsh wore a teal sweater nearly a decade ago. At the new rookie maximum of $850,000 per year for four years, Carle would be a steal.
INCH Prediction: It's certainly not a lock that Carle would jump, especially with a shot at a third straight NCAA title on the line, but defensemen with a gift for offense are coveted commodities. Look for the Sharks to make a push to sign Carle, who would have an outside shot at starting the year in San Jose.
Robbie Earl, Wisconsin (Toronto Maple Leafs)
Conventional wisdom states that Earl could use at least another year in college, and that the Maple Leafs would favor CHL products to fill their AHL roster. But it's clear that Earl – who called himself "a steal" when Toronto drafted him last summer – has confidence in his abilities, so it's possible that he could seek out the next level, especially if he's chafing under coach Mike Eaves' conservative style of play.
INCH Prediction: The Maple Leafs' record of developing college prospects is about as impressive as General Motors' record of financial management. The odds of Badger fans having to mothball sweaters with Earl's name on the back are remote.
Patrick Eaves, Boston College (Ottawa Senators)
The Ottawa Senators have been open about their hopes of getting Eaves under contract, and the talented forward doesn't have much more to prove at the college level. Depending on the framework through which teams will be able to sign players that would have been restricted free agents under the old system, Ottawa's focus early on will be locking up forwards Marian Hossa, Martin Havlat and Jason Spezza. Still, the Sens would like to get Eaves into their system, so expect him to make the jump for a year of AHL seasoning.
INCH Prediction: As sure as this type of thing can get. Eaves would likely get tons of playing time as the focal point of the offensive attack of the Sens' AHL affiliate in Binghamton, N.Y.
UPDATE: The Senators announced Eaves' signing on Aug. 22.
Matt Greene, North Dakota (Edmonton Oilers)
Greene has the size (6-3, 224) and the bruising style of play that's perfectly suited for the NHL. From the Oilers' perspective, he'd develop more under their watch than on trips to and from the penalty box, which they thought happened too often as a result of last year's obstruction crackdown. Plus, they've got room on the blueline – especially at the AHL level – and have never been averse to young, affordable former collegians.
INCH Prediction: The crackdown obstruction isn't going anywhere. Greene, however, could be. Given the Oilers' desires, the chances of him leaving Grand Forks are a shade better than 50-50.
UPDATE: The Oilers announced Greene's signing on Aug. 15.
Jimmy Howard, Maine (Detroit Red Wings)
Howard has met every challenge at the college level, and is seen as the future answer between the pipes in Detroit. He won't be with the parent club this year – goalies Curtis Joseph and Manny Legace are two of the 16 players the Red Wings have under contract for 2005-06 at a cap-busting $38.2 million – but Detroit brass may want him to take the next step under their supervision with the AHL's Grand Rapids Griffins.
INCH Prediction: After years of plugging holes in its lineup by throwing money at veteran free agents, Detroit needs to start cultivating more in-house talent, which means bolstering an AHL team traditionally thin on prospects by signing guys like Howard.
UPDATE: The Red Wings announced Howard's signing on Aug. 24.
Hugh Jessiman, Dartmouth (New York Rangers)
Jessiman may have seen his potential signing bonus flash before his eyes when he suffered a severe ankle injury last November. His recovery went well, but he may want to cash in before he risks another injury at the amateur level. Expect the Rangers, who have approached their former first-round pick before, to make another pitch for his services. He'll probably get his start in Hartford, although debuting with the parent club isn't out of the question.
INCH Prediction: Another franchise that sacrificed the long-term process of regenerating from within in favor of the mercenary approach, it's critical the Rangers get prospects signed and in the system. The club considers Jessiman one of its future stars, so you can expect the Blueshirts to bring him into the fold.
UPDATE: The Rangers announced Jessiman's signing on July 29.
David McKee, Cornell (Free Agent)
A free agent, McKee could jump to the best situation that presents itself. And even though NHL teams are loathe to rush young goaltenders (see Miller, Ryan, and LeNeveu, David), if someone really likes him they may push to sign him now to secure his future rights.
INCH Prediction: McKee might be the toughest read on this list due mainly to his free agent status. The two-month period prior to the start of the regular season could border on chaos as teams sign free agents to round out their rosters. Because of that, chances of McKee leaving Cornell appear slim.
Al Montoya, Michigan (New York Rangers)
With no goalies with NHL contracts (Kevin Weekes and Dan Blackburn are free agents), the Rangers' top priority should be signing prospect Henrik Lundqvist, the Swedish Elite League goaltender of the year in each of the past three seasons, and installing him as the team's starter. Jason LaBarbera, the primary starter for the Rangers' AHL affiliate in Hartford, will probably back him up. Montoya resisted the team's advances last summer, but G.M. Glen Sather will dangle the starting job in Hartford this time around, giving him an opportunity to start 55-60 regular-season games.
INCH Prediction: He could've signed last summer, but a logjam of goaltenders in the Rangers' system would've made playing time hard to come by. Now that the glut has thinned somewhat, there's a spot in the AHL for Montoya to get the work he needs to develop further.
UPDATE: The Rangers announced Montoya's signing on July 27.
Sasha Pokulok, Cornell (Washington Capitals)
The sophomore, who played in all situations for the Big Red before suffering an injury that cut his season short, was a first-round pick of the Capitals in the July 30 draft. With a year of college under his belt, he may be more ready to move on to the professional ranks than most of this year's first-rounders, save Sidney Crosby. The Caps are making rumblings that they might like to get him under contract.
INCH Prediction: Assuming the Caps feel he's ready to make the jump, the decision will be whether Pokulok thinks he is. Money shouldn't be a negotiating sticking point – as the No. 14 pick he can expect to get the rookie maximum.
Ryan Potulny, Minnesota (Philadelphia Flyers)
All signs would point to Potulny returning to Minnesota for his junior season, except one: he's a Philadelphia Flyers draft pick, and Bobby Clarke has shown a propensity for pulling college players out of school early (Mark Eaton, Randy Jones, Patrick Sharp). Also, with the salary cap in place, Philly becomes one of the league's most hamstrung teams, owing nearly $34 million to 13 players, including aging, brittle forwards such as John LeClair and Jeremy Roenick. Clarke may have to shed veteran contracts and bring in young talent such as 2003 first-round draft picks Jeff Carter and Mike Richards and Ohio State vagabond forward R.J. Umberger, creating spots on the team's AHL roster.
INCH Prediction: It's hard to fathom Potulny leaving the Gophers, but because of the Flyers' precarious financial status in relation to the new salary cap, a scenario leading to his departure is quite possible.
Marty Sertich, Colorado College (Free Agent)
The reigning Hobey Baker Award winner is undrafted, so he could sign with whatever team offered him the best opportunity to play. But most scouts have a familiar reason for skepticism – size – which would leave the 5-foot-9, 163-pounder to trying to become the first two-time Hobey winner.
INCH Prediction: Call it a hunch, but squeezing an entire off-season into roughly eight weeks would seem to create a bear market for undrafted free agents. A sparkling senior campaign at Colorado College, however, would rekindle the buzz and, in turn, generate multiple suitors for his services.
Drew Stafford, North Dakota (Buffalo Sabres)
Between the forwards that are currently under contract (Chris Drury and Derek Roy), the restricted free agents under the old CBA they'll likely re-sign (Daniel Briere, J-P Dumont, Jochen Hecht, Maxim Afinogenov, Ales Kotalik and Taylor Pyatt) and the quartet of promising prospects – all younger than 25 – who spent last season in the AHL with Rochester, the Sabres boast a glut of talent up front. Stafford would be best served playing big minutes on the Fighting Sioux's top line and best power play unit.
INCH Prediction: Unless they feel an urgent need to get him into their system, the Sabres will let Stafford continue his development at North Dakota. He made significant strides between his freshman and sophomore campaigns.
Brett Sterling, Colorado College (Atlanta Thrashers)
Atlanta is unlikely to rush the high-scoring winger, who is also an excellent student. Expect the Thrashers to have him return to school for his senior season, as they did with Michigan State forward Jim Slater last year. With a slew of high-end prospects already contributing at the NHL level – or, in the cases of goalie Kari Lehtonen and defenseman Braydon Coburn, ready to contribute – grooming young talent at the AHL level isn't a high priority.
INCH Prediction: Odds that Sterling would bolt are relatively slim. Count on him terrorizing WCHA opponents on a line with Sertich for one final season.
Mark Stuart, Colorado College (Boston Bruins)
For the last two years, Stuart and Boston College's Andrew Alberts have been defensive bookends at the two ends of the college hockey world. The Bruins would like to see the pair anchor their blueline for years to come, and they've already got Alberts in the system. Even before the lockout ended, Stuart said publicly that he'd like to make the jump this fall, so it would be a surprise if he wasn't in camp with Alberts this September.
INCH Prediction: Given his open desire to move on and the Bruins' financial conservatism, it's a virtual lock Stuart will sign. It wouldn't be a surprise to see Stuart in uniform for the B's regular-season opener at TD Banknorth Garden.
UPDATE: The Bruins announced Stuart's signing (along with Alberts') on July 30.
Jeff Tambellini, Michigan (Los Angeles Kings)
The Kings will be one of the league's more interesting teams this season thanks to an influx of young talent to accompany veterans like Trent Klatt, Craig Conroy, Aaron Miller and Mattias Norstrom. For example, former Michigan standout Mike Cammalleri will make the jump to L.A. Could Tambellini be far behind? He's more polished than Cammalleri was when he left Ann Arbor. After the dominant second half he had for the Wolverines, Tambellini appears ripe for a new challenge.
INCH Prediction: Outside of Stuart, Tambellini might be the best candidate to jump right from college into the NHL. Even if he doesn't make the leap, he's probably better served by spending a season in the AHL adjusting to the pro game. He's a solid bet to sign.
UPDATE: The Kings announced Tambellini's signing on Aug. 15.
Stephen Werner, Massachusetts (Washington Capitals)
To be part of a youth movement in Amherst, where there are as many as 11 incoming freshmen, or in Washington/Hershey, where there are only two legitimate NHLers under contract? That's the question for Werner.
INCH Prediction: Even with all the openings in D.C., Werner (a Maryland native) would be unlikely to make the hometown team this season. Expect him to stay in Amherst and try to lead the Minutemen back to their heights of 2003-04.
Travis Zajac, North Dakota (New Jersey Devils)
Zajac and Zach Parise – who, along with David Hale, we nicknamed New Jersey's Sioux-pranos – are seen as the future of the Devils. Zajac proved to be a complete player for North Dakota as a freshman, especially down the stretch. But a second season in college didn't slow Parise's development, which could be a good argument for Zajac to stay put.
INCH Prediction: Zajac is part of the Devils' future, but at present, they have a decent group of forwards. We doubt Lou Lamoriello, who helped negotiate the new CBA on the NHL's behalf, will rush him.

Send this to a friend
About Us | Advertiser Info | Site Map | Privacy Policy
© 2002-2005 Inside College Hockey, Inc., All Rights Reserved