April 7, 2003
Inside College Hockey 2003 Awards
Inside College Hockey is proud to honor its 2003 award winners – five honorees who represent the very best in the college game this season.
Over the course of the year, these players and this coach dazzled us, surprised us, and impressed us – weekend after weekend, night after night.
The selections were made by Inside College Hockey editors and staff, with input from media and coaches from around the country.
INSIDE COLLEGE HOCKEY
2003 PLAYER OF THE YEAR
Peter Sejna
Colorado College | Junior | Forward
Statistics: 42 GP, 36-46—82
Sejna's numbers are mind-boggling: 36 goals and 82 points in 42 games, 15 power-play goals, eight game-winning goals, at least one point in 41 of the Tigers' 42 outings. The junior wing was just as good scoring (seven multi-goal games) as he was setting up his teammates (12 games with two or more assists).

Consistent with most aspects of the game of hockey, Sejna's impact cannot be defined solely by mere statistics. His skating, agility, vision and puck skills are superb. Not only is he outstanding on the power play, but he's a surprisingly effective penalty killer to boot and he rarely puts his team in bad situations – witness his 12 penalty minutes this season.

"He's scored in 39 out of 40 games," Colorado College head coach Scott Owens said prior to last month's NCAA Midwest Regional. "He's on the power play, penalty kill, regular shift. He's a factor every single game."

INSIDE COLLEGE HOCKEY
2003 GOALTENDER OF THE YEAR

Dave LeNeveu
Cornell | Sophomore
Statistics: 28-2-1, 1.14 GAA, .942 sv. pct.
Dave LeNeveu gave glimpses last year of what a special player he could be, but sharing time with All-American Matt Underhill, he wasn't often in the spotlight.
This year he not only grabbed the spotlight, he shined – at least statistically – as no goalie has before. And he backboned a Cornell team that methodically marched to titles in the ECAC regular season, ECAC Tournament and NCAA East Regional.
"He's the real deal," head coach Mike Schafer said. "If an offensive player put up the best numbers in the history of the game, we wouldn't even be talking about who would win the Hobey Baker."
INSIDE COLLEGE HOCKEY
2003 DEFENSEMAN OF THE YEAR
Tom Preissing
Colorado College | Senior
Statistics: 42 GP, 23-29—52
While the Tigers had a multitude of contributors offensively – Senja, Noah Clarke and Brett Sterling, to name a few – Tom Preissing was the team's most surprising weapon. The senior was always a steady point-getter, but his work on offensive always took a back seat to his defensive prowess.

It all changed this season. The Colorado College captain scored 23 goals – all but six on the power play – and added 29 assists, playing a major role in the Tigers' run to the WCHA regular-season title. Like his teammate Sejna, Preissing saw ice time in every situation and, in addition to his other duties, was charged with breaking in freshman phenom Mark Stuart, his blue line partner for the bulk of the season.

"I was really lucky to play with Tom most of the year," Stuart said. "He taught me a lot about leadership and how to keep your composure, not to give up during games, how to prepare for games and to come out strong."

INSIDE COLLEGE HOCKEY
2003 ROOKIE OF THE YEAR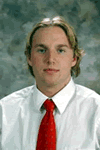 Thomas Vanek
Minnesota | Freshman | Forward
Statistics: 43 GP, 29-29—58
For all the things he accomplished offensively – and there were many – the most impressive thing Thomas Vanek achieved this season may have been improving his commitment to defensive responsibilities and always giving a full effort.

Certainly, any coach in the nation would probably take 29 goals and 29 assists is a pretty good way to start one's college career. And while detractors may argue that fellow WCHA rookie Zach Parise deserves accolades (and he does), Vanek gets the nod here for his season-long development into an all-around leader on a Frozen Four team.

INSIDE COLLEGE HOCKEY
2003 COACH OF THE YEAR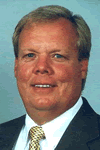 Bob Daniels
Ferris State
Record: 31-10-1 (22-5-1 CCHA)
Pegged to finish ninth by both the coaches and the media in the CCHA preseason polls, Daniels' Ferris State team opened the year with a respectable split vs. St. Cloud State. Then came an eight-game winning streak. The Bulldogs were 13-5-0 and in first place in the conference heading into 2003.

Everyone waited for Daniels' team to fade. They didn't. In fact, they were better during the second half of the season than they were prior to the new year. A 14-3-1 mark over the last 10 weeks of the regular season enabled Ferris State to win the school's first CCHA regular-season title and propelled the Bulldogs to their first-ever NCAA Tournament bid. Daniels acknowledged that the talent he had was better than the lineup in years past, but the wins started to pile up because the players bought into his system and embraced their roles.

"I didn't think it was a surprise we did well," Daniels said during last month's CCHA Super Six Tournament at Joe Louis Arena in Detroit. "I don't think it was a surprise that we got home ice (in the first round of the playoffs) and we're at the Joe. I do think it was a surprise we won the league. I really think this validates our membership in the league."

About Us | Advertiser Info | Site Map | Privacy Policy
© 2003 Inside College Hockey, Inc., All Rights Reserved