August 18, 2003
Kesler, Ellis ink NHL deals
By Mike Eidelbes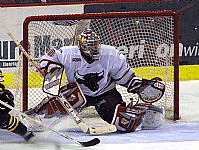 Dan Ellis made 117 starts in three seasons at Nebraska-Omaha.
Two of the CCHA's top talents – Nebraska-Omaha goaltender Dan Ellis and Ohio State forward Ryan Kesler – signed National Hockey League contracts Monday, becoming the latest in the flood of underclassmen to opt for the professional ranks.
Kesler, a first-round choice of the Vancouver Canucks in June's NHL Entry Draft, leaves Ohio State after just one season with the Buckeyes. He was named the team's rookie of the year after scoring 11 goals and 20 assists for 31 points in 40 games as a freshman. The Livonia, Mich., product boosted his draft ranking with a tremendous effort at last year's IIHF World Junior Championship, ranking second on the U.S. team with seven points.
"He can skate, he's big, he finishes, he finishes checks," Vancouver general manager Brian Burke told INCH in Nashville after selecting Kesler with the 23rd overall selection in the draft two months ago. "He's not a sniper, but he has natural scoring ability."
On the dotted line...
Kesler and Ellis are the ninth and tenth players to forego the remainder of their college careers in favor of professional contracts. Check out the complete list of pro signees, then take a look at the Flight Risks we're keeping an eye on.

Kesler's defection comes as somewhat of a surprise. Most people, including Burke, assumed OSU senior-to-be R.J. Umberger, who was picked by the Canucks in the first round of the 2001 NHL Draft, would forego his final year of eligibility in favor of a professional career.
"We've never taken a player out of school early unless they've wanted to come," Burke told INCH at the June draft. "I think R.J. is ready to come out. Again, I talked to Coach (John) Markell and told him what I just said to you guys...that we'd never take a player out early. If R.J. wants to come out, then we're going to try to sign him. He's got to take the next step at some point."
Ellis, who would've been a senior this season, inked a three-year deal with the Dallas Stars, the team that selected him in the second round of the 2000 NHL Entry Draft. The Orangeville, Ont., native, was a workhorse for the Mavericks between the pipes. In three seasons, he started 117 games and logged 6,900 minutes en route to a 53-50-12 career record. He also posted a 2.69 career goals against average and a 91.0% save percentage.
"We are very excited for Dan and we think he has all the tools to excel at the next level," UNO coach Mike Kemp said in a prepared statement. "Having guys like Dan Ellis mature and develop in our program is very gratifying."
The Mavericks' stable of netminders for the upcoming season is extremely green. Senior Brian Haaland has played in nine career games, with redshirt freshman Kris Tebbs and rookie Chris Holt also in the mix.

Ellis, meanwhile, joins a rich goaltending corps in the Dallas organization. Michigan alum Marty Turco is solidly entrenched as the starter, and the Stars boast prospects in Michigan native Jason Bacashihua (a 2001 first-round draft pick) and Swiss netminder Tobias Stephan (a second-round choice in 2002).
Also, Denver coach George Gwozdecky learned one of his recruits will not embark on a college career. Forward-defenseman Ty Morris signed with the Swift Current Broncos of the Western Hockey League last week. A native of Millet, Alberta, Morris had 28 goals and 54 assists for the Alberta Junior Hockey League's St. Albert Saints last season. Ironically, Morris was chosen by Vancouver in the fourth round of the 2003 NHL Draft.