July 2, 2003; Updated July 7, 2003
LeNeveu Leaves Cornell for NHL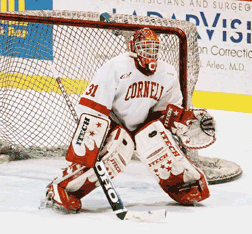 Cornell goaltender David LeNeveu has agreed to a multiyear contract with the Phoenix Coyotes, forgoing his final two years of collegiate eligibility.
"We are very proud of David and all that he has accomplished at Cornell," Cornell head coach Mike Schafer said in a statement. "It's bittersweet for us. Losing David to Phoenix is obviously a big loss for our program, but the entire team is excited that David is getting a chance to live out his dream – a dream they all have. We believe he will work hard and be extremely successful with Phoenix and wish him all the best as he takes this step in his career."
"David is one of the top young goaltending prospects in the world," said Coyotes general manager Mike Barnett. "He has enjoyed an outstanding two years in a top program like Cornell and we are confident that he has the skills to develop into an NHL goaltender."
On the dotted line ...
LeNeveu joins fellow ECAC co-Player of the Year Chris Higgins and three other underclassmen who have made the leap to pro hockey this offseason. Check out the complete list of pro signees, then take a look at the Flight Risks we're keeping an eye on.
LeNeveu, a Hobey Baker Award finalist and Inside College Hockey's pick as the national goaltender of the year in 2002-03, was selected in the second round, 46th overall, in the 2002 NHL Entry Draft. The Fernie, B.C., native led the nation's goaltenders for the entire 2002-03 season and posted the best goals against average in college hockey history with a mark of 1.20. He also had the seventh-best save percentages at .940. For the season, he posted a mark of 28-3-1, including a school- and ECAC-record nine shutouts.
LeNeveu led Cornell to its first NCAA Frozen Four appearance in 23 years and its second straight ECAC title. He was also a member of the Canadian Junior National team, which won a silver medal at the world championships in January 2003. He was the only NCAA player on the Canadian squad.
The Big Red returns two goaltenders for the 2003-04 season in senior Todd Marr and sophomore Louis Chabot, a duo that combined to make five appearances all of last season.
"One door closes for the program with David moving on, but another has quickly opened for our two returning goalies," Schafer said. "It's a tremendous opportunity for these two young men to step up and continue the tradition of goaltending excellence at Cornell."
Days after LeNeveu's announcement, Cornell added a third goalie in Dave McKee of the North American Hockey League's Texas Tornado.
LeNeveu joins an organization which could present the opportunity for playing time at the NHL level, depending on the future of Sean Burke. The Coyotes' starter for the last four seasons, Burke is widely rumored to be on the trading block.