September 15, 2004
Recruiting Trail: Top Defensemen & Goalies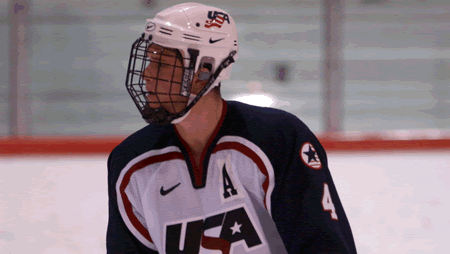 Three defensemen join Boston College this season, including Mike Brennan, who holds down the No. 3 spot in the INCH Recruiting Rankings for blueliners.
Inside College Hockey compiled our 2004 Recruiting Rankings with extensive input from college and junior coaches, as well as professional scouts. Other ratings:
• Top 20 Forwards
• Top 15 Classes
• Top Players by Origin
• All-Name Team
Stay tuned in the coming days for our exclusive ranking of the top players by junior league or geographical area, as well as our annual all-name team.
TOP 15 INCOMING DEFENSEMEN

Name

School
Last Team

Alex Goligoski

Minnesota
Grand Rapids HS

Kyle Radke

North Dakota
Grande Prairie (AJHL)

Mike Brennan

Boston College
U.S. NTDP

Kyle Klubertanz

Wisconsin
Green Bay (USHL)

Nate Hagemo

Minnesota
U.S. NTDP

Bret Tyler

Maine
Jr. Bruins (EJHL)

Jack Hillen

Colorado College
Holy Angels

Derek Peltier

Minnesota
Cedar Rapids (USHL)

Craig Switzer

New Hampshire
Salmon Arm (BCHL)

Michael Hodgson

Bowling Green
Sioux City (USHL)

Dan McGoff

Boston University
Nobles

Brad Flaishans

New Hampshire
Texas (NAHL)

Johann Kroll

Ohio State
Sioux City (USHL)

Trevor Ludwig

Providence
Texas (NAHL)

Paul Baier

Brown
Deerfield Academy
TOP 10 INCOMING GOALTENDERS

Name

School
Last Team

Cory Schneider

Boston College
Phillips Andover

Kevin Regan

New Hampshire
Waterloo (USHL)

Philippe Lamoreaux

North Dakota
Lincoln (USHL)

Peter Mannino

Denver
Tri-City (USHL)

Derek MacIntyre

Ferris State
Soo (NAHL)

Peter Vetri

UMass Lowell
Williams Lake (BCHL)

Tyler Sims

Providence
Youngstown (NAHL)

Matt Lundin

Maine
Apple Valley HS

Justin Mrazek

Union
Estevan (BCHL)

Matt Climie

Bemidji State
Truro (MJAHL)

Send this to a friend
About Us | Advertiser Info | Site Map | Privacy Policy
© 2002-04 Inside College Hockey, Inc., All Rights Reserved