April 28, 2005
World Championship Flashback: Brian Gionta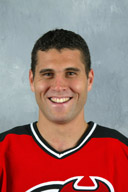 Brian Gionta
MORE COVERAGE

FOLLOW THE GAMES
While there's no U.S. television coverage of the games, you can watch them all on the web through a service offered by MediaZone.com, a sponsor of INCH's World Championship coverage. | More Information
For complete stats, standings and more, visit the tournament's official web site at IHWC.net. | Link
With more than two dozen former collegians slated to participate in the 2005 IIHF World Championship, our former college hockey heroes will be trying to make memories on one of the sport's biggest stages. With that in mind, Inside College Hockey takes this opportunity to reflect on some of those players' memorable college moments.
When you score 123 goals in your college career, there may not be one that stands out. In Brian Gionta's case, five do.
Gionta's five goals in the first period of a game against Maine in January of his senior season remain one of the most remarkable achievements in college hockey history.
"It was just amazing," recalls head coach Jerry York now. "Everything he touched became a red light."
Even more remarkable, to York, was what happened after the period ended.
"I remember walking back to the locker room thinking, 'How are we going to handle this thing?'" he says. "These were two tough, evenly matched teams. My first inclination was, 'Can he get six or seven? Can this be an all-time record?'
"As soon as we got in the locker room, before anyone said anything, Brian stood up. He said, 'All we want is to win a hockey game.' I remember that more than the goals."
That was a preview of another locker room moment later in the year. Shortly after the team's semifinal win in Albany, York was going to break the news that his star forward wasn't going to win the Hobey Baker Award the next day. Gionta interrupted him.
"Hey coach, I only came here for one trophy," he said. "That's all I'm looking forward to."
Chances are, he's got similar team-first goals for his trip to Austria.
— Nate Ewell

Send this to a friend
About Us | Advertiser Info | Site Map | Privacy Policy
© 2002-2005 Inside College Hockey, Inc., All Rights Reserved