April-May, 2005
2005 IIHF World Championship
SCHEDULE
April 30: Russia 4, Austria 2
April 30: Canada 6, Latvia 4
April 30: Slovakia 2, Belarus 1
April 30: Finland 2, Denmark 1
May 1: Czech Rep. 3, Switzerland 1
May 1: U.S. 7, Slovenia 0
May 1: Kazakhstan 2, Germany 1
May 1: Sweden 3, Ukraine 2
May 2: Slovakia 3, Russia 3
May 2: Finland 4, Ukraine 1
May 2: Belarus 5, Austria 0
May 2: Sweden 7, Denmark 0
May 3: Canada 8, Slovenia 0
May 3: Czech Republic 2, Germany 0
May 3: U.S. 3, Latvia 1
May 3: Switzerland 2, Kazakhstan 1
May 4: Russia 2, Belarus 0
May 4: Ukraine 2, Denmark 1
May 4: Slovakia 8, Austria 1
May 4: Sweden 5, Finland 1
May 5: Czech Republic 1, Kazakhstan 0
May 5: Latvia 3, Slovenia 1
May 5: Switzerland 5, Germany 1
May 5: Canada 3, U.S 1
May 6: Russia 3, Switzerland 3
May 6: U.S. 4, Finland 4
May 7: Belarus 2, Kazakhstan 0
May 7: Latvia 3, Ukraine 0
May 7: Sweden 5, Canada 4
May 7: Czech Republic 5, Slovakia 1
May 8: U.S. 5, Sweden 1
May 8: Canada 3, Finland 3
May 8: Slovakia 3, Switzerland 1
May 8: Russia 2, Czech Republic 1
May 9: U.S. 1, Ukraine 1
May 9: Russia 3, Kazakhstan 1
May 9: Switzerland 2, Belarus 0
May 9: Finland 0, Latvia 0
May 9: Germany 9, Slovenia 1
May 10: Canada 2, Ukraine 1
May 10: Slovakia 3, Kazakhstan 1
May 10: Czech Republic 5, Belarus 1
May 10: Sweden 9, Latvia 1
May 11: Slovenia 6, Austria 2
Quartefinals
May 12: Czech Republic 3, U.S. 2 (shootout)
May 12: Russia 4, Finland 3
May 12: Canada 5, Slovakia 4
May 12: Sweden 2, Switzerland 1
Semifinals
May 14: Czech Republic 3, Sweden 2
May 14: Canada 4, Russia
Bronze Medal Game:
May 15: Russia 6. Sweden 3
Gold Medal Game:
May 15: Czech Republic 3, Canada 0
FOLLOW THE GAMES
While there's no U.S. television coverage of the games, you can watch them all on the web through a service offered by MediaZone.com, a sponsor of INCH's World Championship coverage. | More Information
For complete stats, standings and more, visit the tournament's official web site at IHWC.net. | Link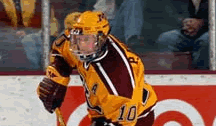 Paul Martin is among the former collegians playing in the 2005 IIHF World Championship in Austria.
The 2005 IIHF World Championship – the world's highest-profile hockey event this season in the absence of the Stanley Cup Playoffs – has a distinct college feel. Stick with INCH as we provide a college hockey perspective on the tournament, through the eyes of the at least 24 former collegians participating.
Flashbacks
Inside College Hockey takes this opportunity to reflect on some of the participating players' most memorable college moments.

Mark Parrish: According to his former college coach, goaltenders should keep a 10-foot pole handy when facing Parrish.

John-Michael Liles: Neil Koepke of the Lansing State Journal tells us that Liles has been proving skeptics wrong for years.
Dany Heatley: Heatley's college coach recalls some of his fondest memories.
Mike York: Fond memories from East Lansing, on and off the ice.
Erik Cole: Bob Ahlfeld looks back on two special moments from Cole's Clarkson career.
Adam Hall: A Hall of a goal stands out when recalling Adam Hall's college career.
Brian Gionta: One goal doesn't stand out from Brian Gionta's BC career – five do.
Aaron Miller: The former Vermont Catamount logged a lot of ice in Burlington – and still does.
Jeff Halpern: One of Princeton's all-time greats almost led the Tigers to a monumental upset.
From ESPN.com
ESPN.com's Coverage
Future Watch
World Worthy
America's Future
Conklin's Competitive Nature
Extreme Makeover: U.S. Edition
Former Collegians Participating
Team USA
Erik Cole (Clarkson)
Ty Conklin (New Hampshire)
Matt Cullen (St. Cloud State)
Rick DiPietro (Boston University)
Hal Gill (Providence)
Brian Gionta (Boston College)
Adam Hall (Michigan State)
Jeff Halpern (Princeton)
Brett Hauer (Minnesota Duluth)
Mike Knuble (Michigan)
Jordan Leopold (Minnesota)
John-Michael Liles (Michigan State)
Paul Martin (Minnesota)
Aaron Miller (Vermont)
Zach Parise (North Dakota)
Mark Parrish (St. Cloud State)
Andy Roach (Ferris State)
Yan Stastny (Notre Dame)
Ryan Suter (Wisconsin)
Tim Thomas (Vermont)
Doug Weight (Lake Superior State)
Mike York (Michigan State)
Team Canada
Dan Boyle (Miami)
Dany Heatley (Wisconsin)
Brendan Morrison (Michigan)
Marty Turco (Michigan)
Team Austria
Bernd Brückler (Wisconsin)
Thomas Pöck (Massachusetts)
Gert Prohaska (St. Cloud State)
Michael Stewart (Michigan State)
Matthias Trattnig (Maine)
Thomas Vanek (Minnesota)
Team Finland
Jarkko Ruutu (Michigan Tech)
Team Germany
Oliver Jonas (Harvard)

Send this to a friend
About Us | Advertiser Info | Site Map | Privacy Policy
© 2002-2005 Inside College Hockey, Inc., All Rights Reserved