May 9, 2005
World Championship Flashback: John-Michael Liles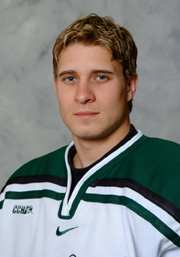 John-Michael Liles
MORE COVERAGE

FOLLOW THE GAMES
While there's no U.S. television coverage of the games, you can watch them all on the web through a service offered by MediaZone.com, a sponsor of INCH's World Championship coverage. | More Information
For complete stats, standings and more, visit the tournament's official web site at IHWC.net. | Link
With more than two dozen former collegians slated to participate in the 2005 IIHF World Championship, our former college hockey heroes will be trying to make memories on one of the sport's biggest stages. With that in mind, Inside College Hockey takes this opportunity to reflect on some of those players' memorable college moments.
When John-Michael Liles committed to Michigan State in the fall of 1998, I'll admit that I was skeptical about his chances of success at the college level. At about 5-foot-9 and 170 pounds, I wondered about his ability to handle the physical side of the CCHA while trying to contribute offensively.
Coaches and officials with the U.S. National Team Development Program gave me reason to hope when they said: "Don't worry about Liles. He's going to be fine. He can skate, he'll get stronger and he'll be very good offensive defenseman.''
It wasn't long into his freshman season that Liles won me over and had Spartan fans shaking their heads.
He showed a knack for bringing the puck out of his zone quickly and smoothly, eluding forecheckers along the way and getting open for good scoring chances.
During his Spartan career, Liles was particularly adept on the power play at taking the puck off the boards at the right point, moving to his left and getting in great position for a pass or shot. He was uncanny in getting shots through defenders and on goal.
Jason Woolley (1988-91) was one of the most exciting Spartan defenseman I've ever watched. Liles, who scored a MSU career record 44 goals, might have been even better at scoring goals and bringing fans out of their seats. He had eight goals as a freshman, seven as a sophomore and 13 and 16 in his final two years. He led the Spartans in scoring as a junior and senior.
Sometimes, Liles took shots off passes and rocketed them into the top corners of the net. Other times, he'd take a quick look and beat goaltenders with low shots.
When Liles attended his first NHL training camp with the Avalanche, I first thought that if he made a good showing and played well in the minors early on, he might get a chance to get called up later in the season.
Remembering that I doubted him coming into MSU, I thought, maybe he'd surprise again as an NHL rookie.
He did.
And now's among a new group of talented American players who will be striving for gold medals over the next several years.
— Neil Koekpe
Neil Koepke has covered Michigan State hockey for the Lansing State Journal for the last 19 seasons.

Send this to a friend
About Us | Advertiser Info | Site Map | Privacy Policy
© 2002-2005 Inside College Hockey, Inc., All Rights Reserved