May 1, 2005
World Championship Flashback: Adam Hall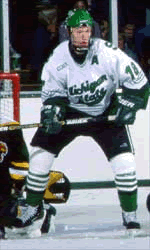 Adam Hall
MORE COVERAGE

FOLLOW THE GAMES
While there's no U.S. television coverage of the games, you can watch them all on the web through a service offered by MediaZone.com, a sponsor of INCH's World Championship coverage. | More Information
For complete stats, standings and more, visit the tournament's official web site at IHWC.net. | Link
With more than two dozen former collegians slated to participate in the 2005 IIHF World Championship, our former college hockey heroes will be trying to make memories on one of the sport's biggest stages. With that in mind, Inside College Hockey takes this opportunity to reflect on some of those players' memorable college moments.
During his four-year career at Michigan State, forward Adam Hall scored many big goals for the Spartans. But only one resulted in four columns of fire shooting 20 feet skyward on a crisp autumn night in front of 74,554 fans.
About three minutes into the historic "Cold War" game on Oct. 6, 2001, in East Lansing, Hall beat Michigan goaltender Josh Blackburn to give his team a 1-0 lead. The number of people in Spartan Stadium who saw his goal was roughly equivalent to the population of his hometown of Kalamazoo, Mich., but the MSU captain stood alone. After all, when in hockey history had more people witnessed a single goal?

"I couldn't feel my body because of all the adrenaline," Hall said following the contest. "The crowd was going crazy. It was one of the best feelings I've ever had. It was amazing."
After the game, it was my duty to ask Hall for the stick he used to score the goal on behalf of another Hall. The Hockey Hall of Fame in Toronto wanted it along with all six of the goal pucks from the 3-3 tie. The request didn't come without a bit of trepidation, however. After all, Hall scored that goal and set up the game-tying goal with that stick. What if he didn't want to give it up? And if he didn't, could you blame him?
After explaining the situation to Adam, he looked at me as if I was crazy. This, I assured him, this is for real. His mood turned one part serious, one part excited. "Do you need it right now?" Hall said. "I can go get it if you need it right now."
I don't know whether the request was one of the best feelings Hall ever had. But it was definitely in the top two on that day.
— Mike Eidelbes

Send this to a friend
About Us | Advertiser Info | Site Map | Privacy Policy
© 2002-2005 Inside College Hockey, Inc., All Rights Reserved