April 25, 2005
World Championship Flashback: Jeff Halpern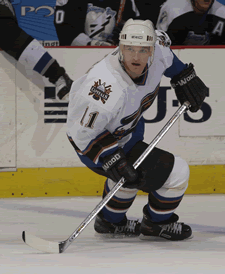 Jeff Halpern has played five seasons with the Washington Capitals.
MORE COVERAGE

FOLLOW THE GAMES
While there's no U.S. television coverage of the games, you can watch them all on the web through a service offered by MediaZone.com, a sponsor of INCH's World Championship coverage. | More Information
For complete stats, standings and more, visit the tournament's official web site at IHWC.net. | Link
With more than two dozen former collegians slated to participate in the 2005 IIHF World Championship, our former college hockey heroes will be trying to make memories on one of the sport's biggest stages. With that in mind, Inside College Hockey takes this opportunity to reflect on some of those players' memorable college moments.
It's ironic that a place like Princeton, which prides itself on excellence in every endeavor, owes some of its most memorable sporting events to losses. Bill Bradley's exploits in the Final Four are retold often, yet the best he did was a third-place finish; the famous upset bid against Georgetown also fell just short.
The most memorable game of Jeff Halpern's career was also a loss, as the Tigers nearly took out Michigan, which would go on to win the national championship, in the first round of the 1998 NCAA Tournament. A number of higher-profile teams have known the disappointment of losing to the Wolverines at Yost Ice Arena in the NCAAs, including No. 2-seeded North Dakota the following night. Princeton, which only qualified for the tournament by winning the ECAC playoffs, came close to this upset, which would have been the ultimate irony.
That night Halpern skated against the likes of fellow World Championship participant Marty Turco and Bill Muckalt, but he stood out as the best player on the ice. His one-timer from the slot beat Turco, tying the score at 1-1 late in the second period.
Sitting in the small but vocal Princeton section, filled with alumni who had flocked to the school's first (and still only) NCAA appearance, there was a sense of inevitability – good vibes flowed despite the 6,000 surrounding Michigan fans. Much of that was due to Halpern, who remains the best Tiger to lace up the skates this side of Hobey Baker.
In the end, it wasn't to be – with the winning goal beating goaltender Erasmo Saltarelli on a deflection off, ironically, Halpern's stick. But the Team USA center had shown, without a doubt, that he belonged on a big stage.
— Nate Ewell

Send this to a friend
About Us | Advertiser Info | Site Map | Privacy Policy
© 2002-2005 Inside College Hockey, Inc., All Rights Reserved