May 11, 2005
World Championship Flashback: Mark Parrish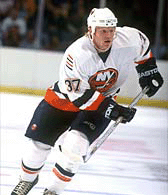 Mark Parrish (NY Islanders photo)
MORE COVERAGE

FOLLOW THE GAMES
While there's no U.S. television coverage of the games, you can watch them all on the web through a service offered by MediaZone.com, a sponsor of INCH's World Championship coverage. | More Information
For complete stats, standings and more, visit the tournament's official web site at IHWC.net. | Link
With more than two dozen former collegians slated to participate in the 2005 IIHF World Championship, our former college hockey heroes will be trying to make memories on one of the sport's biggest stages. With that in mind, Inside College Hockey takes this opportunity to reflect on some of those players' memorable college moments.
With all of the big-name talent on Team USA, some may have been surprised to see a relatively lesser-known like New York Islanders forward Mark Parrish jumping out to the team's goal-scoring lead at the World Championships.

By way of understanding, a glance at his hockey resume will reveal that a dictionary may be the only place you'll find the word "patience" anywhere near the word "Parrish."

Hot starts are nothing new for this puck-hungry Minnesotan, who learned the advantages of flying under the radar at an early stage in his career. Parrish was part of a Bloomington (Minn.) Jefferson High School program that won three consecutive Minnesota state titles, but stayed out of the spotlight on a roster studded with such future college stars as Mike Crowley (Minnesota), Nick Checco (Minnesota), Joe Bianchi (Wisconsin), Ben Clymer (Minnesota) and Ian Petersen (Colorado College).

But just two seasons out of preps, Parrish was putting up 27 goals in the WCHA for St. Cloud State, displaying a nose for the net the likes of which his college coach had rarely seen.

"What stood out most about Mark's game was that anytime he came within 10 feet of the puck, it ended up on his stick, and if it got to his stick, it usually got to the net," said Huskies coach Craig Dahl.

Parrish left the college ranks for the WHL after two seasons at St. Cloud State, and needed all of one game of seasoning in the AHL before putting up 24 goals as a rookie with the Florida Panthers. In six NHL seasons (two in Florida and four on Long Island) Parrish has maintained that pace, averaging 24 goals per season.

If Dahl were to offer advice to future opponents of Team USA in the Worlds about how to stop Parrish, it might be this: Whatever you do, keep the puck at least 3.05 meters from his stick. Here in America, that's 10 feet.
— Jess Myers

Send this to a friend
About Us | Advertiser Info | Site Map | Privacy Policy
© 2002-2005 Inside College Hockey, Inc., All Rights Reserved