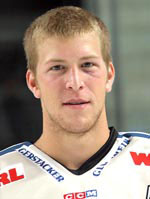 Yan Stastny has played with the
German Elite League's Nuernberg
Ice Tigers for two seasons.
MORE COVERAGE

FOLLOW THE GAMES
While there's no U.S. television coverage of the games, you can watch them all on the web through a service offered by MediaZone.com, a sponsor of INCH's World Championship coverage. | More Information
For complete stats, standings and more, visit the tournament's official web site at IHWC.net. | Link
Yan Stastny's hockey career is a lot like a made-for-TV movies in which the average high school girl stuns her former classmates when she shows up at a reunion looking like Eva Longoria. Less than 24 months after leaving Notre Dame after two vanilla seasons, he's become a bona fide NHL prospect after two impressive years with Nuernberg in Germany's top professional league and landing a spot on the U.S. team that competed in this year's IIHF World Championship in Austria.
Stastny's decision to leave the Fighting Irish, where he amassed 20 goals and 20 assists in 72 career games, after the 2002-03 campaign seemed curious. The Boston Bruins, which had chosen him in the eighth round of the 2002 NHL Entry Draft, weren't rushing to create a spot for him in the Hub or on the team's American Hockey League affiliate in Providence, for that matter.
Still, Stastny felt his future in hockey would be best served by playing professionally. His father, Hall of Fame forward Peter Stastny, agreed, which effectively cinched the debate.
"My biggest thing was that I wanted to concentrate more on hockey," Stastny said last week as the bus carrying him and the rest of his U.S. teammates motored from Vienna to Innsbruck. "I felt that to develop as a player, I had to be on the ice as much as possible."
Stastny played in 44 regular-season games and six playoff contests in his first year with Nuernberg, scoring a total of 30 points. Not bad, but
kleine kartoffeln
compared to the breakout he enjoyed this past season. In a year in which the talent level of European leagues rose due to the influx of out-of-work NHLers, Stastny was fourth among Deutsche Eishockey League players in scoring (54 points in 51 games), finished sixth in goals (24), ranked tied for 11th in assists (30) and led the Ice Tigers to a third-place finish in the league standings.
"Any time you play more games, you become more experienced," said Stastny, explaining his meteoric rise. "My skating and strength has improved. Every league in Europe has stepped up with NHL players coming to play. Playing well gives you that little extra bit of confidence."
That confidence likely grew exponentially with his selection to the U.S. team. Skating alongside NHL stalwarts like Doug Weight and Mike York and young up-and-comers such as Jordan Leopold and Zach Parise, he acquitted himself quite well, scoring two goals in seven games.
"As the season progressed, my agent told me I was in the running [to make the U.S. team]," Stastny recalled. "But it's still something I never expected at all. I would come here every year if they asked."
Gary Bettman and Bob Goodenow willing, Stastny would likely prefer to skip next year's World Championship due to another commitment – one in the Stanley Cup playoffs with the Bruins. But playing in Germany (Stastny's contract with Nuernberg expired this season) has benefits. For example, the DEL schedule allows him to keep tabs on his brother, Paul, who capped a stellar freshman season at Denver by helping the Pioneers win a second straight national championship.
"We play on Fridays and Sundays, so I'd check the Internet Saturday morning," explained Stastny, who was in Columbus for the Frozen Four because Nuernberg was upset in the first round of the DEL playoffs by Adler Mannheim. "I'd talk to [Paul] once a week, usually on Sunday after my game. He had a phenomenal year."
For the Stastnys, phenomenal years, like goals, come in bunches.
— Mike Eidelbes